AshleyMadison is a dating website and app created for married people who want to have a little more fun with other people. This app allows you to meet many married people and start dating discreetly.
Moreover, since there are many people on this app, you can choose what type of relationship you want, so you don't have to search for a long time for your perfect companion. This app is an excellent way of meeting new people and starting a discrete, romantic relationship with them.
Today, we will discuss the cost of signing up to Ashley Madison and all the possible fees on the app. You will find out all about refunds, gift cards, discounts, pricing, and payment methods.
The users of this app usually want to keep their identity hidden and don't want their partners to find out about their activity on the app. We will also examine how this app keeps your identity hidden and how you can save yourself from any additional problems.
Let's look at what it will cost you to use Ashley Madison and whether there are some perks that can lower the cost.
---
Ashley Madison Pricing
The AshleyMadison site and app has a pay-per-credit principle, so you don't have a fixed pricing or a subscription, unlike all other dating apps. AshleyMadison offers a free option, but there are a limited number of features you can use for free.
On this dating website for married people, you spend credits every time you chat with someone, so you will be paying to get in touch with someone you like. How much do these credits cost?
| | | |
| --- | --- | --- |
| Package | Credit Amount | Costs |
| Basic | 100 | $59.99 |
| Classic | 500 | $169.99 |
| Elite | 1,000 | $289.99 |
There are three options on the Ashley Madison app regarding pricing and credits: basic, classic, and elite. One credit on a basic package costs 59¢, and you can buy 100 credits with this package. The cost of a basic package with 100 credits is $59.
The classic package offers the possibility of buying 500 credits at 34¢ per credit. The whole classic package costs $169 for 500 credits that you can spend in the app.
Lastly, the elite package's pricing is 29¢ per credit, and this package comes with 1000 credits. The whole package costs around $290, which might be the best deal you can take. Regarding the elite package, the app offers the possibility of highlighting your profile; this will make it more visible to other users.
Features that Cost Credit
| | |
| --- | --- |
| Type | Costs |
| Send a regular message | 9 Credits |
| Send a Priority Message | 14 Credits |
| Open collect messages | 5 Credits |
The app uses these credits for sending messages, opening messages, live chats, virtual gifts, etc. For example, it will cost you five credits to open or send a message, 50 credits to live chat, and the price of virtual gifts varies. However, you will have to pay to use any of the features this dating site offers.
However, this pricing only applies to male users – women can use this app for free. Women don't have to pay anything and can start using the app immediately, with no additional fees.
Ashley Madison Discounts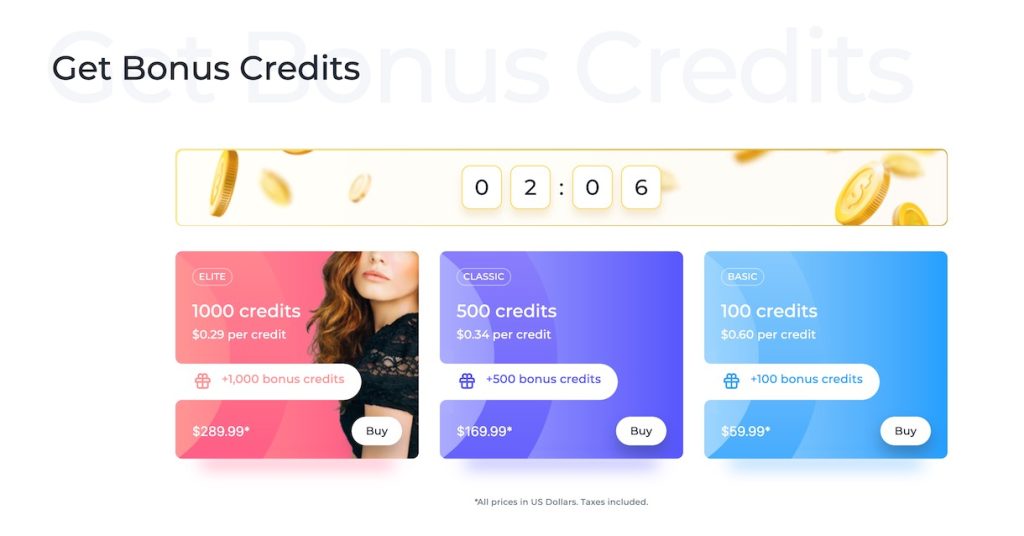 AshleyMadison's website offers different coupons and discount codes. For example, you can have a discount if you make a purchase at Walmart or get a promo code with a certain percentage off of your next credit purchase.
The discounts range from 15% to 40% and can be applied to different features or credit purchases. For example, you can get a promo code that you can use to send free messages or have an hour of free live chat.
AshleyMadison Refund
Affair Guarantee is AshleyMadison's way of saying that you will find what you are looking for in the app. That's why they have created a return policy, which states that you will get your money back if you don't find someone in three months.
If you are a user of this app and haven't found your luck, you can get a refund by filling out a request. In the app, you can find an "Affair Guarantee Refund Application", where you can request your refund.
Moreover, the site's customer support is always available, so if you encounter any problems with your refund application, you can contact their support team.
Ashley Madison Appearance on Credit Cards and Bank Statements
One thing that concerns most users of this app is their bank statement and how Ashley Madison will appear on their credit cards. However, this app/site wanted to be discreet since it is a dating platform for married people, so the site's name won't appear in your bank statements.
This site will appear as AMDA 1 866 790 6550, which stands for Ashley Madison. However, your spouse won't be able to see the full name of the site, and you will have complete discretion.
Ashley Madison knows how important it is to keep their users' affairs on the low, so they wanted to ensure they won't cause any trouble for married couples. That's why they don't reveal their full name on bank statements and credit cards.
AshleyMadison Giftcard Payments
AshleyMadison wanted to ensure that you feel secure when purchasing credits in their app. For that reason, you can hide your in-app purchases by trading gift cards for credits. However, the gift card must have a minimum value of $50.
This way, you can hide your purchase from your spouse. They won't suspect anything if you purchase a gift card and trade it in the AshleyMadison app.
Some of the gift cards AshleyMadison currently accepts are Starbucks, BestBuy, Walmart, HomeDepot, and many more.
Moreover, if you purchase credit in the app using a gift card, you might protect yourself from cyber-attacks because your bank information or your name won't be visible to hackers. You can hide your purchase from both your spouse and attackers.
Additionally, if you want to keep your identity hidden and don't want your partner to find out about your intentions, there are other options to purchase credits. You can use PayPal or your cards to buy credits, but you won't have to reveal your identity.
Furthermore, you won't have to give a description or the site's name when buying the credits. This way, you can keep your intentions hidden.
Ashley Madison and Cryptocurrencies
Some users are wondering whether they can buy credit in Ashley Madison using cryptocurrency, and the answer is no. Ashley Madison doesn't currently accept any form of cryptocurrency because of previous bad experiences.
Namely, the Ashley Madison site was hacked into, and the hackers threatened to release information about Ashley Madison's users, and some information even got leaked. The hackers requested a $2,500 ransom in cryptocurrencies to stop what they were doing.
After some time, the hackers returned with an even more dangerous threat: releasing the users' spouses' information online. They threatened to send out letters to all users' spouses to inform them about their partners' activities on the app.
This attack was all over the news at the time, and the users were scared of the outcome. Since the attackers requested a cryptocurrency to stop the attack, Ashley Madison doesn't accept it as a payment method.
Moreover, this dating site/app made sure to work on its security and wants to ensure high-quality privacy for its users. That's why they have created another layer of protection for their users' personal information.
Free Messages on AshleyMadison
As we have already mentioned, texting and chatting through this app isn't free (it costs five credits to open a message and five credits to send a message). However, people were not pleased with this charge, so they wanted to find a way to send free messages, and there are several ways to achieve this.
The first one includes being a female (or presenting yourself as one), as women on this app don't have to pay for anything. They can simply sign up and create an account and use all the features.
Because of this, many people started creating their accounts and presenting themselves as the other gender. People don't want to pay to send messages or chat with someone, which is why they came up with this idea. That's why you can see many more females on the app than males.
Best AshleyMadison Alternatives for Hookups
Another way to get free messages is by subscribing to their premium program, but you won't have to pay. When you subscribe to AshleyMadison's premium program, you can enjoy every feature it offers (including not having to pay five credits for a message).
However, you won't have to pay for this premium account. You can simply start your one-month free trial and cancel the subscription before a month is over. Yes, you will be charged when you create an account, but you will get a refund if you cancel your subscription before 30 days pass.
While we are on the topic of refunds, you can get an Affair Guarantee refund, but this option may not turn out the best. With this option, the app guarantees a full refund if you don't find an affair in three months. However, the app tracks your activity, so they determine whether or not you will get a refund.
Lastly, you can try out their free trial and enjoy unlimited messaging through the app. You can send as many texts as you want to as many people as you want without paying for it for a month.
Many users create different email addresses and start their free trials repeatedly. That way, they can create a new account over and over, but they don't have to pay additional fees.
If you don't want to pay for credits, you can use one of these methods and try texting for free, but for a limited time.
Message Plus
Message Plus is a feature on Ashley Madison, where you can send unlimited texts without paying for them. As previously mentioned, this feature is not free, but you can start your free 30-day trial.
This option is a sort of premium account, where you can access all the features without paying additional fees. Ultimately, you will have to pay for the premium account itself, but you won't have any other expenses.
If you really like the app and want to use it for longer, it might be best to become a Message Plus user. That way, you get to save time and money because you won't have to buy credits repeatedly.
Final Thoughts
AshleyMadison is a dating app/site used by married people who want to get out of their comfort zone and try something new. Many people use this app, and people are generally pleased with it. Many have managed to find what they were looking for through this app.
However, this app is not free of charge; the situation is quite the opposite. If you want to use any of the features available in the app, you have to pay for it. For example, you need to pay for any message you send through the app and any message you open.
People have realized that this is not what they want, so they found different ways of using the app for free (you can read about it above). Nonetheless, this app is an excellent way of meeting new people and starting new relationships.
Additionally, the app wanted to ensure that your identity is hidden, so their company's name doesn't appear on bank statements and credit cards, but that's not all. You can also pay anonymously with gift cards, and no one will know that you are using AshleyMadison.