| | |
| --- | --- |
| Category | Rating |
| Popularity | |
| Quality Matches | |
| Ease of Use | |
| Value of Money | |
| Overall | |
While the web is an abundant source of dating platforms, none of them has the popularity or efficiency of AshelyMadison. Considered the most efficient and simply the best dating service on the net, Ashley Madison is a surefire way for married people and sugar babies to find a partner online.
The site has been around for some time now and although its primary targets were married people looking for an affair, the service has since diversified its offering. The site now caters to all people, both married and not single, who want something extra on the side.
AshelyMadison has changed drastically over the years, and it now has millions of individuals who want to diversify their love lives in various ways. Whether you're married and looking for an affair or a sugar baby looking for a prosperous and generous sugar daddy, chances are that Ashley Madison will deliver.
Let's talk about the most important things everyone looking for love should know before joining Ashley Madison.
---
AshleyMadison Data Breach
Ashley Madison has been around since 2001. Its creator, Darren Morgenstern, wanted to create a reliable, safe, and discreet dating platform for affairs, love, and everything in between. Through the decades, the site has changed a lot, though.
Today, it's one of the most reliable dating sites for finding new, exciting individuals worldwide. Since millions of people use the site, you can quickly build connections and engage in meaningful relationships. However, every new beginning is hard, and Ashley Madison is no exception.
About seven years ago, the site went through a serious data breach. Hackers managed to breach the database and cause a leak of all the members' personal information. It was a living nightmare and a scandal of global proportions.
Millions of users suffered a leak of their personal details, including credit card and financial credentials, profile data, addresses, names, emails, etc. Cybercriminals managed to get their hands on all that priceless data, causing problems for users worldwide. However, the site wasn't taken down.
It was rebuilt with a focus on users' safety and privacy. Today, the site takes pride in utilizing the latest, strongest safety and security measures. Because of that, millions of members can now enjoy safe and discreet affairs every month.
The site has more than 60 million members, and its user base is growing daily. The service is available via both the app and website. If you prefer an app, you can access it via Google Play or AppStore. Simply choose the service of your preference and download the app.
The site sees about 20,000 new members every day. All users can count on a safe and secure dating environment. If any problems arise, the site's responsive customer support can provide answers and additional options for resolving any issues.
AshleyMadison's Visits by Countries
Does Ashley Madison Use Fake Profiles?
Since Ashley Madison has users from every corner of the planet, it's natural to have a few fake profiles and bots here and there. However, don't let this fool you. The site has real people with genuine profiles.
While scammers often find their way to the site and get involved with regular members, the ever-vigilant customer support constantly monitors the members' behavior to filter out any suspicious users.
If you notice any awkward behavior or anything strange about other members, you can either report them to customer support agents or block their profiles. That's why it's crucial to maintain constant communication with the support agents.
They need your feedback to upgrade the service and learn from your updates. Even though the site utilizes the latest safety and security measures, such as advanced encryption and profile authentication and verification methods, bots still manage to bypass the safety filters.
If you think a profile might be fake, don't hesitate to tell customer support about it. A couple of years ago, there were female bots who pretended to be real sugar babies looking for sugar daddies. Thankfully, they were quickly discovered and deleted.
Is there a Site Better than Ashley Madison?
Is AshleyMadison for Sugar Babies?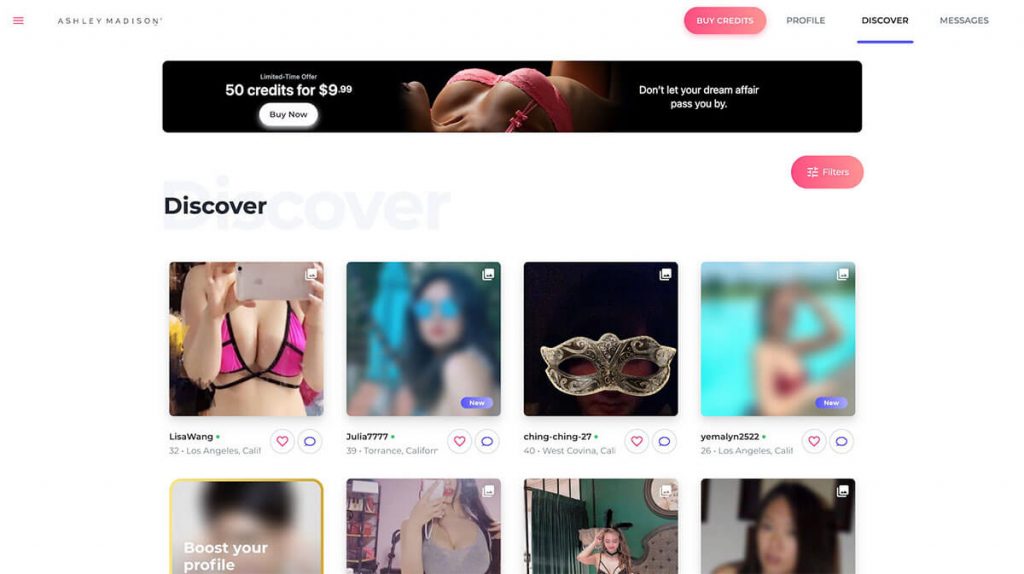 Ashley Madison has a lot to offer to both sugar daddies and sugar babies. First of all, it's a sugar dating site designed to help daddies and babies find lucrative, mutually beneficial relationships. In other words, it's a perfect dating service for girls looking for top-class, safe, and free sugar dating platforms.
The site helps sugar babies find relationships, love, and even marriage. Although the platform attracts attached people, it's dedicated to helping users find hot affairs with rich people. If you're a female sugar dater, you'd be happy to know that the site attracts mostly attached sugar mommas and married men who are all financially stable.
Ashley Madison caters to sugar babies by allowing them to create detailed profiles with top-quality photos to attract as many sugar daddies and mommas as possible. In addition, registration is now free for all, and girls can use a full range of features free of charge, including messaging.
If you're looking for sugar daddies, mommas, or both, you aren't required to pay for interaction with your sugar dates. With almost 70% of members being men, Ashley Madison is perfect for sugar dating as it helps sugar babies to eliminate competition they would typically face on other similar dating platforms.
What makes Ashley Madison stand out from other sugar dating sites is the ease of looking for other members and finding matches. Sugar babies can use the Discover option to find the most compatible matches on the platform.
The option offers access to search filters such as:
Basic – filter out new members, browse private/public photos, and set age range, distance, and location;
Additional filters – specify the type of relationship you're interested in as well as ethnicity, height, and weight;
Favorites – group the most compatible profiles by liking and adding them to your favorites list.
While there's an option to access premium features by buying credits, sugar babies don't need them. Since they can access messaging for free, they don't need to boost their profiles. Since there are about 30% of female users on the site, sugar babies aren't required to fight the competition by investing in their profiles.
All they need is an attractive profile with hot photos and detailed information to highlight their presence online and attract matching sugar daddies/mommas. If you've never used a sugar dating site before and you're a sugar baby or daddy looking for a compatible partner, Ashley Madison offers a 30-day free trial to help you find your way around the site.
How to Search by Using a Username on AshleyMadison?
Despite the immense efforts that Ashley Madison makes to keep users' on-site activity private and discreet, there's still a way to take a peek inside its user base. You won't even need to create an account to search for other members.
All you need is a name or email, and you can easily check if someone is secretly using the site to cheat on their spouse. Since that data breach in 2015, the site has been leaking users' data. That made it possible to find someone by using a username. There are a couple of ways to do it.
1. AM Profile Finder
AM Profile Finder is a search tool that allows you to find someone on Ashley Madison by using their name. The tool makes it easy to search the user base and quickly provides a report with all the relevant dating profiles and information.
2. Social Catfish
Social Catfish is an excellent search tool that works like a search engine. Instead of searching the web, it searches dating sites. It's a tool specifically designed to search for people on dating services. Social Catfish scans multiple dating sites and collects data on all users.
You can narrow your search down by using a phone number or just a name. Simply visit Social Catfish, find the search page, and enter the username. Choose a country and let the tool search the available databases. The tool will provide you with results, including all active information on different dating sites.
3. Spokeo
Spokeo is another user-friendly people search engine that you can rely on to find someone on a range of dating sites. Spokeo uses a different database from Social Catfish, and if one tool fails to deliver, the other will surely succeed.
Spokeo has been around for a long time and is a well-known search engine that delivers accurate search results. It works in almost the same way as Social Catfish.
Find the search page, enter an email address, phone number, or name, and hope for the best. Aside from finding someone on dating sites, Spokeo also lists social networks (120+) in its detailed report.
4. Leaked AM databases
The infamous 2015 data breach spawned countless leaked Ashley Madison databases. Allegedly, you can use these databases to search for someone for free. All it takes is to type "Ashley Madison database search" on Google.
However, keep in mind that there are risks associated with this approach. The data you get might be inaccurate or outdated. Chances are that you won't be able to find the person you're looking for.
What is a Priority Mail?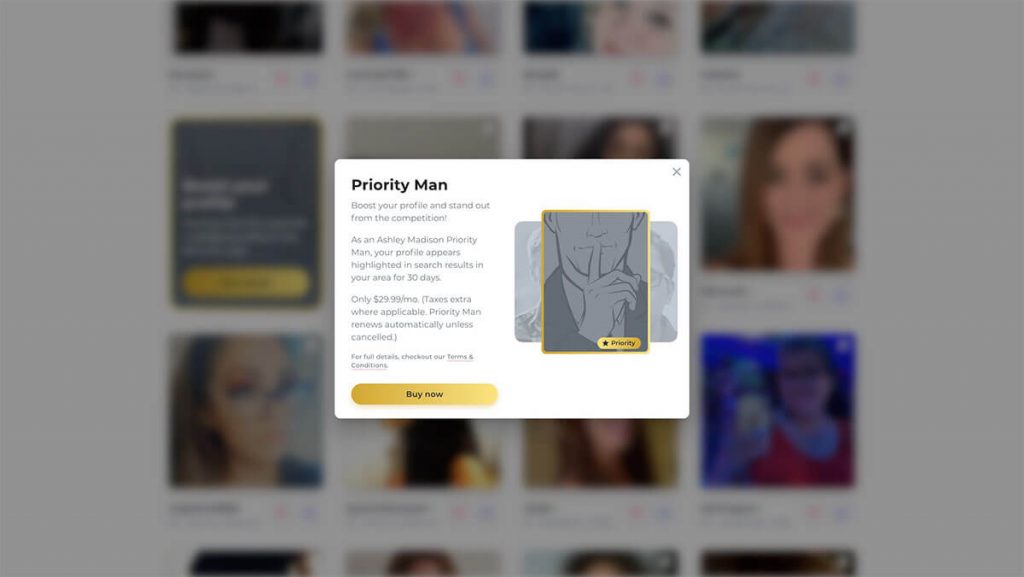 If you want someone to notice you, you can highlight your messages by using the Priority Mail feature. This option highlights your messages and shows them first in the recipient's inbox. When you send a "Priority" message, you're letting someone know you're so into them that you've made your expressions of affliction appear at the top of that person's mailbox. You have two options for paying for the Priority Mail feature:
You can tap into the credits system and use your credits to pay for the extra service;
If you have a subscription, you can choose from a range of premium plans that include the feature.
If you want to avoid using credits, you can opt for the Message Plus feature that allows you to send, receive, and read messages. However, you need to establish a previous contact to use this feature. The feature comes with a 30-day free trial but only if you buy one of the credit packages.
Another option is to get in touch with lots of hot sugar babies and mommas using Member Initiated Contact. While this feature is only available to users with credits, it's the best messaging method that helps you to avoid spending money on more credits.
More importantly, the messages you exchange with other members are female-initiated and free. You'll only have to use your credits to make the first contact. You can send and receive messages for free and without credits if you have already established contact.
The Priority Man feature is also quite popular among sugar daddies on Ashley Madison. It allows them to highlight their profiles and stand out from the others in the search results. Any user can pay to make their profile more visible and noticeable to potential matches.
Conclusion
Standing strong for almost 21 years, Ashley Madison is a leading dating site for affairs, sugar dating, and everything in between. It caters to married people as well as sugar babies, daddies, and mommas.
With more than 60 million users, it's one of the largest dating communities on the web. If you're into sugar or married dating, this is the site for you. Around 20,000 new members join the site every day. The site is free for ladies, while men can use most features without spending a dime. There are more men than women on the site – making AM a perfect option for sugar babies and mommas looking for successful and rich married men.