| | |
| --- | --- |
| Category | Rating |
| Popularity | |
| Quality Matches | |
| Ease of Use | |
| Value of Money | |
| Overall | |
Before, you had to go outside to find a potential partner, but during the past decade, hundreds of online dating sites and apps started popping up.
One such app that has become very popular recently is the Kasual app. Kasual, formerly known as Yumi, is a dating app that helps connect singles to hook up. It can serve for casual flings or hookups that can turn into relationships, which makes it very versatile. Kasual can offer a great experience to new users with its various user-friendly features, as I've experienced myself.
It has improved safety and security, so you're less likely to deal with scammers, and the dating functions in the Kasual app resemble a card game where you can try out your luck and hopefully find a new partner. In this game, you have an excellent chance to get lucky!
Kasual has helped over 5 million of its users hook up over its lifetime, and with more than 6 million downloads, Kasual seems to be a promising app.
I've done some digging on my own, of course, and here's what I've found.
✓

The Good
Great for any user, no matter the membership level
Great amount of anonymity
Lets you control the info amount you can expose
Great for quick hookups
Female-friendly and completely free for women
Good verification process and plenty of real users
Many different ways to communicate
✗

The Bad
Low response ratio while chatting
You can run into a few sex workers here and there
Not great for anyone looking for a serious relationship
There are a lot more male users than females
No web version of the app
Here's A Bit Of A Background On The Kasual App
I've been using Kasual for some time now, and I've mostly had a positive experience. Kasual works the way it should and there's a good chance that you will find attractive singles in your area every time you flip a card. Since I was looking for casual hookups, this app seemed like the perfect fit. However, it may be harder for someone looking for long-term relationships.
Kasual has some features that make it stand out from similar apps. For example, it's known for providing anonymity to the users, a solid registration and verification process, and various ways of getting in touch with other members.
Below, I will cover its features in detail, go over the pros and cons, and help you determine if it's the right fit for you.
The Registration Process Is Smooth and Simple
The registration process in the Kasual app is quite different from many others. It doesn't require your email address, social media account information, or phone number. There's no need for a profile picture either, so it takes little to no effort to make a profile. This platform also has decent privacy settings, which help you control your privacy and you get to choose who can see your profile.
There's A Free Trial, But You'll Want To Get A Paid Membership Plan
Kasual offers a free trial that lasts for one week, but you have more features available as a free user, unlike in the past. Just like Kasual Elite members, you can use Super Flip too. You have one Super Flip every week, but you can purchase Super Flips in packages as well. Of course, there are still the traditional options to swipe left and right, send emojis, and send messages.
Apart from the free member option, there's also the Kasual Elite. Details as follow:
| | | |
| --- | --- | --- |
| Plan | Monthly Cost | Total Cost |
| 1 Month | $29.99 | $29.99 |
| 3 Months | $19.99 | $59.99 |
| 12 Months | $14.99 | $89.99 |
Free membership requires no payment and provides the most basic functions. You can talk to other users by texting and sending emojis or likes. However, having free membership won't include some advanced features of the paid memberships, which is a bit of a bummer.
I wasn't able to get any boost, change location, see who liked me, see the active status, view unlimited matches, or chat with expired ones with the free version.
Here's What the Elite Plan Gets You
Kasual Elite contains some additional features:
You get 7 Super Flips every week;
Advanced filters;
Read receipts;
See active status;
Control privacy and security.
When you create a new account or use another device, you'll have your purchase restored automatically. It applies to either having the same Google or Apple ID account you used for the upgrade. However, you can restore your purchase manually as well. You have to tap your profile picture at the bottom right corner after login, tap Settings, and tap Restore Purchase.
You can cancel auto-billing on the App Store at any time. When done, the subscription will stop when the billing cycle ends. However, this doesn't apply to refunds, as any purchases in the Kasual app are not refundable, so think about your priorities and needs before choosing any membership plan.
So, What Makes Kasual App So Popular?
Kasual app offers high anonymity to the users so that they can date comfortably. It's a unique feature that helps many people flirt with complete freedom. Anonymity gives more confidence to many that want to hook up without inconvenience. The Kasual team protects its users from many scammers and users whose motives are questionable.
It has a verification process that separates real from fake users, which is useful for people who want to look for new matches without exposing too much information. The verification system requires every user to take a selfie. That way, you have to copy a gesture of a sample image, and this process has eliminated many fake accounts and fraudsters.
You can either put emojis on your profile picture or blur it out. You can apply some of the filters to your profile image as well. This option gives users more discretion while looking for a new match. You only need to provide your gender, orientation, and location to the app so it can find the people that live nearby. You can change your profile information later if you really hit it off with someone and want to share a bit more.
Being all about safety, Kasual can provide you with methods to report fraudulent activities. The Kasual app requires the users to be over 18 and doesn't allow adult workers or sex for money. If you fail to meet the mentioned criteria, your account gets permanently banned.
Since it cares about the privacy of its users, the Kasual app doesn't share user photos or voice profiles with third parties. A safe and secure user experience is the top priority of the app.
The Flip Card System Is A Bit Gimmicky But Can Be Fun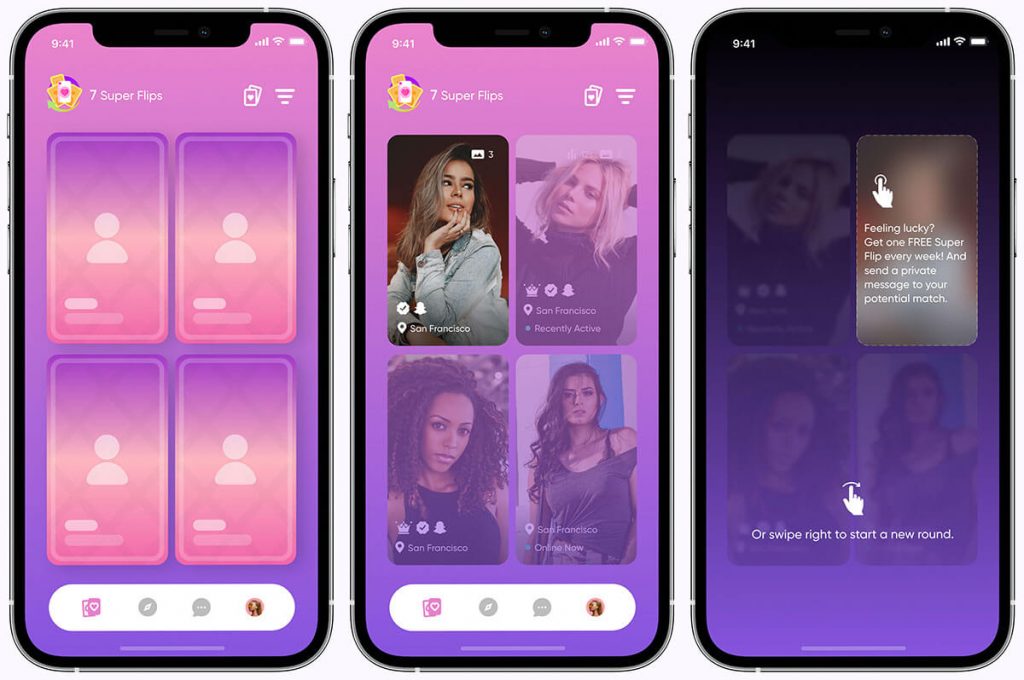 The Kasual app is a chance-based platform where you have a 50% chance of finding a new partner. There are four cards where you can click and flip one over.
If you have randomly flipped over someone else's card, you can talk to the person for free, but when you get a chance, you have 24 hours to contact the person. When the 24 hours pass, the flip card expires, but you can recover the card if you're a member.
You Can Stack the Odds With a Super Flip Card
Next to a regular card flip, you have an option of Super Flip. It's great for a user who wants to make more matches. Unlike having only one card, you can flip two or more, so you'll have the odds in your favor. If you're a Kasual Elite member, you have up to 7 Super Flips every week, which means you'll get a whole lot of opportunities to find a date!
There Are Lots Of Different Ways To Talk To Other Members
Kasual is perfect for people who want to seek sexual adventures and mindless flings with strangers. It's for those who don't want any strings attached, just casual fun, and you have a couple of convincing ways to communicate to the users.
It offers you a variety of ways you can talk to a partner. You can chat, send photos or voice messages to each other, or make a 1-to-1 video call. That way, you can choose which option suits you best. You can also like other profiles and send emojis.
When you want to delete a conversation, you need to go to the chat, tap the ellipsis icon on the top right corner, and delete the convo. If you can't find any matches in your area, you're probably using a pretty narrow filter. Try to broaden your choices by changing the filter if that's the case. If that still doesn't work, try to be patient and wait for new matches over time.
What About Spam/Fake Accounts On Kasual App?
For the most part, the Kasual app is safe for use, but of course, you should be cautious of the occasional user who can be fraudulent. Also, beware of the users that go full-on anonymous – you never know what intention they have when approaching you. Keep in mind that Kasual can't keep track of these things at every given moment, which is why you should think twice before exposing information to a scammer.
The Kasual app got rid of many scammers just by a verification process. If it spots an adult worker or a fake profile, Kasual bans them forever.
The Kasual App Is Not Without Its Flaws, But It's Legit
Kasual is a real app available worldwide, and it's great for anyone looking for new hookups. Kasual has helped many singles find real partners. Lots of people have confirmed that the Kasual app provides them legit matches, and I've had a decent experience with it myself.
Its simple design also makes it approachable for older or less tech savvy people – just set your account in a few steps, and you're ready to hook up.
Of course, the Kasual app can come with its pros and cons. No matter how versatile it can be, the Kasual app won't work for everyone.
If you're done with the Kasual app and want to delete your account, you just have to do a few steps. Go to the main screen. Then tap on your profile photo in the bottom right corner. Go to Settings, click on Privacy & Security, and delete your account.
My Experience
From what I've seen, I'd say that the Kasual app is a great app that works best for finding casual hookups with no strings attached. You can even do all that while being completely anonymous – it has a verification process that weeds out the fake from real users. While looking for new partners, I wasn't too worried about dealing with scammers.
There are also different membership plans you can choose from – you can enjoy basic functions using Kasual for free or have all the advantages of a Pro or Elite member. I dabbled a bit with the Pro version and had a fun time flirting, apart from a couple of obvious fakes.
I'd say that the Kasual app is a good hookup app because its features make it a good fit for most people, and it has helped many find a great match. Since you can choose your anonymity level and the amount of information – I leaned more towards the cautious side – you can rest assured that your dating experience will be pleasant.
It was a fun experience for me as a more mature guy, but if you're in your early 20s and not really looking for anything serious, you'll have a lot of opportunities and really enjoy it.
All in all, the app really does offer a bit of everything, so it will suit most people's needs and preferences.