| | |
| --- | --- |
| Category | Rating |
| Popularity | |
| Quality Matches | |
| Ease of Use | |
| Value of Money | |
| Overall | |
Being a part of the transgender community hasn't been easy in the past, and even today, thousands of transgender people worldwide are working their way into dating through slow but persistent improvement regarding their societal position.
Thankfully, the internet has made transgender dating more possible than ever before, and you can choose which dating platforms will suit your desires, depending on your needs. However, finding the right dating app can be challenging, and you may need some help throughout the search process.
That's why I am here to help you reach your dating goals and let you see whether a dating platform like My Transgender Date can fulfill your needs. This article will cover everything you need to know about this dating site – pros, cons, pricing, functionality, and everything else that can be helpful.
✓

The Good
A free and easy registration process
User-friendly interface
Strong privacy and security
Good matching algorithm
Customer service is available 24/7
The site's moderators manually check profiles and photos
No ads
✗

The Bad
You will need a premium account to chat with other users
Encountering fake profiles is possible
Some users have reported problems with the verification process
An automated matchmaking algorithm can make your search last longer
They haven't developed a mobile app
---
Some of the basic things you need to know about My Transgender Date
My Transgender Date is a global dating platform for transexual women and trans-oriented men. The dating platform was designed by a trans couple, Maki Gingoyon and Cyril Mazur, back in 2013, with the idea to give transexual women a chance to feel safe, accepted and appreciated while dating online.
They have made their team bigger, and every person who works at My Transgender Date is, in fact, trans. Therefore, they pay attention to contributing a respectful policy to their users while maintaining a safe space for transgender people to meet each other and start dating.
Also, they have constantly been working on using innovative tools and improving the quality of the dating platform to make the user experience quick and easy. Also, I was more than surprised when I found out that their services are completely free!
The registration process is quick and easy!
Registering at My Transgender Date will only take a couple of minutes. The only information you will have to share is your name, country of residency, date of birth, email address, and password, which you may have come across in the past while registering at any other dating site.
Once you verify your email address and create your dating profile, you can choose what type of information about yourself you want to share afterward. This part is necessary if you want to find perfect matches, as it will narrow your search to potential users who can match your interests and dating goals.
Furthermore, you can choose how much information you want to share. A good description of yourself and representative photos can make your profile stand out and help you find a potential partner from over a million dating profiles on the My Transgender Date platform.
It's completely free, while premium subscriptions cost a reasonable price
What makes My Transgender Date stand out among other transgender dating sites is that you don't need to pay anything to register. However, you can always opt for a premium subscription and pay for additional services that may enhance your experience.
I can personally say that their services are cheap, as you can use premium tools that can help you match more easily, chat with potential partners, and have a chance to appear in featured profiles and talk to them whenever you want.
My Transgender Date Pricing
| | | |
| --- | --- | --- |
| Plan | Monthly Cost | Total Cost |
| 1 Month | $29.00 | $29.00 |
| 3 Months | $22.90 | $68.70 |
| 6 Months | $16.90 | $101.40 |
| 12 Months | $10.90 | $130.80 |
To be fair, the pricing meets dating site standards, and the premium subscription can pay off if you want to get into the online dating game a bit more seriously. You can pay via standard payment methods for online payment. Also, you can cancel your subscription at any time.
Chatting systems work great, but they only function for premium users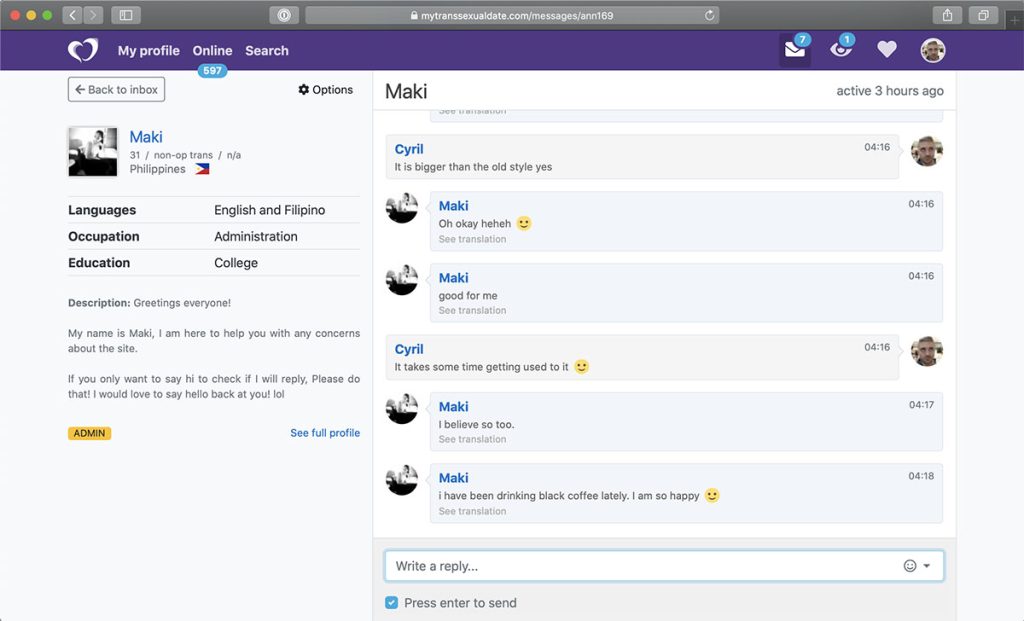 Although My Transgender Date offers free registration, you won't be able to chat with potential matches without a premium account. Therefore, you may want to purchase additional services if you want a complete and easy-going online dating experience.
I have also come across their policy, where only transgender women can send messages for free. This policy is probably there because My Transgender Date wants to give women a safe space to date online and avoid potential harassment from the opposite gender.
If you own a free account, you can see whether someone sent you a message but will be unable to read it without paying for a premium subscription beforehand.
The chatting systems are easy to use, and you can exchange messages, photos, and other files along the way. Nevertheless, you may encounter a sex worker here and there, but you can always report those types of profiles to My Transgender Date customer service.
The matching algorithm is simple and accurate.
My Transgender Date matching algorithm relies on the information you give after registering your account. The more information you share, the more it can work toward matching you with people who have similar interests, relationship goals, and desires as yourself.
Although the matching doesn't have the standard swipe method, you can use a search bar to find matches, and the algorithm will present users who are most likely to match with you. If you ever experience undesirable matching with users that don't fit your standards, try updating your profile with more details.
Their customer support is always available and very helpful!
My Transgender Date customer service is available 24/7 for any of your concerns, questions, or reports. And because their team consists of people who are transgender, they pay close attention to keeping the platform harassment-free and safe for its users.
Also, customer support can help you if you ever have technical issues while uploading your photos, chatting with other users, or experiencing any type of abnormalities on the platform. They can also help you cancel your premium subscription if you ever need to do so.
Coming across bots and fraud attempts is possible but only on rare occasions
Like on every other dating app, you may encounter fake accounts and fraudulent activities. However, the My Transgender Date team works hard on maintaining these types of problems as making their user's experience safe is their number one priority.
I advise you to keep track of your activity on this platform and be careful while talking to other users at any moment. Potential threats which you won't notice at first can create further problems if you ever decide to meet a match in person.
If you ever feel uncertain if the person you're talking to is not fake and has no wrong intentions towards you, you can always contact customer service to check their profile and verify their credibility.
Their user interface is easy-to-use!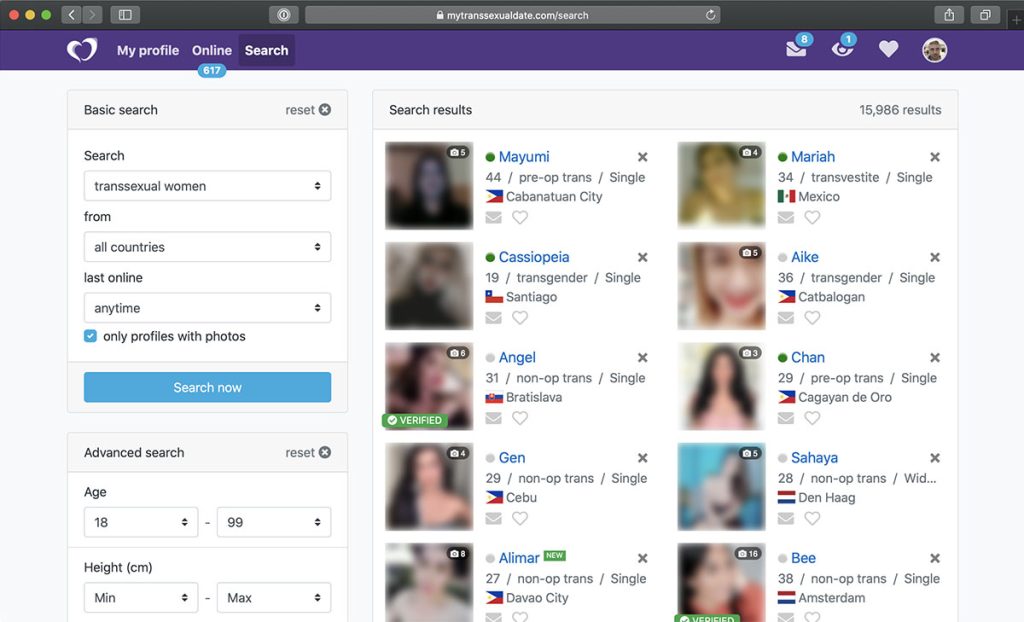 With a tidied-up interface, the My Transgender Date platform interface can help you get insight into your activity, matches, and previous experience. Also, the search bar and chatbox are easy to notice and use.
However, it doesn't go beyond anything we've already seen on dating sites. So if you expect an innovative interface with breathtaking tools, you won't be surprised at all, as the interface relies on basic commands and tools.
So, what makes My Transgender Date stand out among other transgender dating platforms?
My Transgender Date offers a chance for transgender women to use a safe space to express their interests and desires while finding a life partner. Paying close attention to the safety of their users (especially women) makes this platform unique and great to use.
Therefore, I was pleasantly surprised when I explored this site due to its protection policy toward its users. So, if you're a transgender woman or a trans-oriented man looking to find someone for a relationship and don't want to worry about your safety and privacy, My Transgender Date may be a perfect choice.
Also, it offers a heartwarming community that will make you feel appreciated and accepted. It's one of the things that makes thousands of users stay on the platform for years.
Is it worth the shot?
Naturally, I would say it doesn't hurt to try anything new. However, I think that My Transgender Date is a great chance to get out of your comfort zone and try meeting new people. However, experiencing difficulties when trying to overcome potential homophobic reactions can be challenging.
Therefore, I highly recommend you try this dating platform for many reasons.
First, if you're a woman, you're in control when communicating with other users. You can always choose to back off if you feel uncomfortable in any way possible.
Second, you don't have to worry about being misjudged by others, as the My Transgender Date community is highly welcoming and friendly. Don't forget that you can always report an account that potentially harasses you.
Third, if you choose to pay for a premium account, you can decide which monthly plan will suit your needs, and you can always cancel your subscription at any time.
My Experience
Overall, My Transgender Date is a good dating platform that offers various transgender individuals a chance to meet new people and find like-minded users. I think that this platform can help you find someone for a serious relationship and can offer a good experience along the way.
With all of its pros and cons, I think it represents a decent dating platform, and most importantly, it creates a safe space for its users to search for their matches. Therefore, My Transgender Date is one step closer to maintaining healthy communication between transexual individuals.
Although you will have to pay for a premium account, I think it can pay out in the end if your goal is to find the perfect individual for a relationship. The longer you own a premium dating account, the finding the best match will be more likely to happen soon.
Conclusion
My Transgender Date is a great opportunity to come out of my shell and try to find a friend, lover, or even a one-night stand! The greatest thing about it is you can come across users who have similar interests and relationship ideas like yourself.
Therefore, I highly recommend this platform to both transgender women and trans-oriented men, as it represents one of the most frequently-used dating platforms that offer many possibilities within the online dating experience.
The platform offers a bit of everything you may need while searching for your perfect lover. Therefore, I hope you will have a safe experience using this platform, and I wish you the best of luck on your journey!