| | |
| --- | --- |
| Category | Rating |
| Popularity | |
| Quality Matches | |
| Ease of Use | |
| Value of Money | |
| Overall | |
As the swiping culture becomes a paradigm in the dating world, especially among younger generations, you may find it difficult to choose an online dating app that suits your needs. Each one of these apps has unique features. More importantly, not all of them are popular to the same extent, nor do they attract the same demographics.
Pure is one of the most popular online dating apps in this niche, so you will probably often find it in your search results.
Is it really worth your time?
Below you will find the ultimate Pure review so that you can decide whether this is the app you've been looking for.
What is Pure?
Pure is a hookup online dating app that caters to people interested in erotic adventures and one-night stands. It was launched back in 2013. Over the years, it went through many updates to accommodate the specific needs of people belonging to the hookup culture.
The competition in the hookup apps category is harsh. However, Pure remained competitive by enabling people to find casual sex partners in no time. At the same time, the Pure team did an excellent job providing anonymity and privacy to its users. We will cover this point in greater detail in the "How anonymous is Pure?" section.
The Key Pure Features
The best thing about Pure is that the app doesn't try to reinvent the wheel. You can find pretty much all the standard features you'd expect to see in an online dating app. These are the key features.
1. Self-Destructing Profiles
Self-destructing profile is a premium feature. It enables members to create and post the ad but also enables self-destruction. The ad will remain visible to other members for one hour. Once the time expires, the ad will be automatically deleted. This feature is aimed at those interested in fast hookups who don't want to waste their time on small talk.
2. Devil's Bones Game
Every Pure user has unique dating preferences stored within their online profile. The platform uses these preferences, along with age and location, to match you randomly with another member. Once matched, you will find yourself in an anonymous audio chat with your match.
It's an excellent feature for individuals who enjoy staying anonymous but love engaging in more immersive conversations.
3. Gifts
While Pure members can exchange messages, they can also send gifts to each other. As you might've guessed, this attention-grabbing feature is a premium one. Sending a gift can increase your chances of success and help you end up in bed with the person you like the very same evening.
4. Instant Chat
Instant Chat, as the name applies, allows you to send messages to other members, but there is a catch. With Instant Chat, you can send messages to anyone you like even if you didn't get a match. With this feature, you don't have to wait for the chat window to pop up, which happens when there is a mutual like.
However, this is a premium feature, and it applies charges to your account per use. If you decide to use it, you need to be smart, so you don't spend too much money on sending messages.
Pure Gift, Instant Chat, King Of Hill Pricing
| | | |
| --- | --- | --- |
| Name | Single Cost | Total Cost |
| 1 King Of Hill | $3.99 | $3.99 |
| 5 King Of Hill | $2.99 | $14.99 |
| 1 Instant Chat | $3.99 | $3.99 |
| 5 Instant Chat | $2.99 | $14.99 |
| 1 Gift | $1.99 | $1.99 |
| 5 Gifts | $1.59 | $7.99 |
How does Pure Work?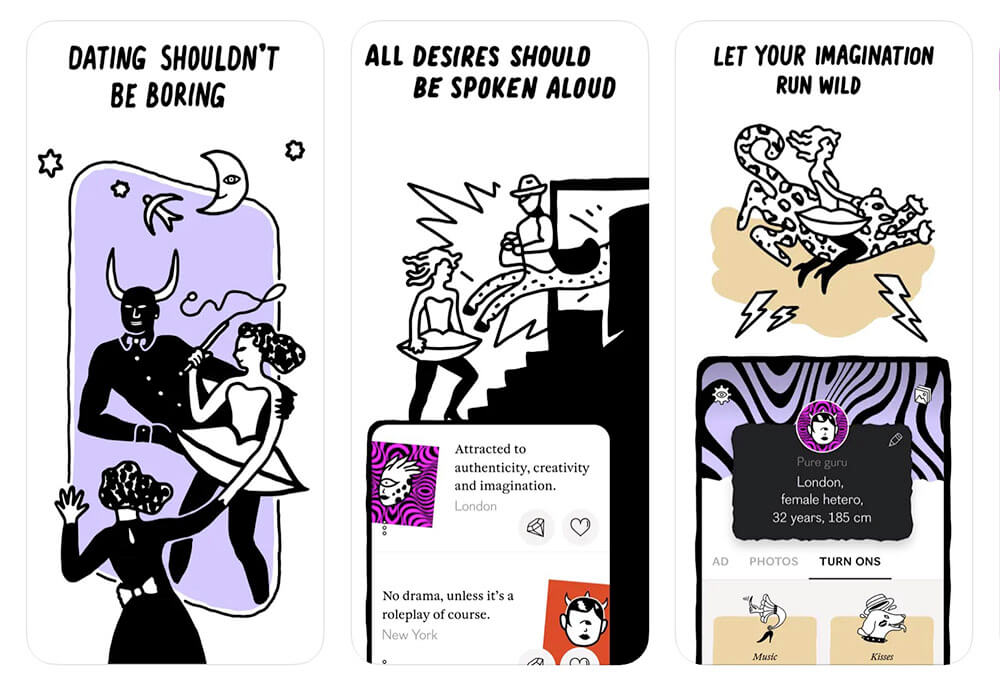 Are you familiar with online dating ad formats? If you are, then you will have no problem figuring out how Pure works. Every Pure member can create an ad. The ad consists of a photo and one or a couple of catchy lines.
If you create an ad, other members can see it for 24 hours. In case you like someone's ad, and they like you back during this time window, you'll have a match. The app will automatically choose the members to display your ad using the location-based algorithm.
Once you receive a match, you can either engage in an anonymous audio chat or standard messaging. The anonymous audio chat is one of the favorite Pure features as it enables members to engage in conversation instead of exchanging messages.
Who can You Meet on Pure?
Here we come to another important section of the Pure review. We are talking about an international hookup app that generates over 40,000 monthly downloads and has over 3,000 unique members active on a weekly basis. It goes in line with the fact that the number of adults using dating sites continues to increase with every passing year.
There are more male than female users, which doesn't come as a surprise as it's pretty common to see such a sex distribution in hookup apps. Most users are between 25 and 34 years of age.
Most Pure members are from the US. However, the app is quite popular in Russia, Canada, Brazil, the United Kingdom, Argentina, Poland, Ukraine, and the Check Republic too.
Finally, if you are looking for a serious relationship, you might skip Pure – it attracts people who are only interested in casual dates and hookups.
Can You Use Pure for Free?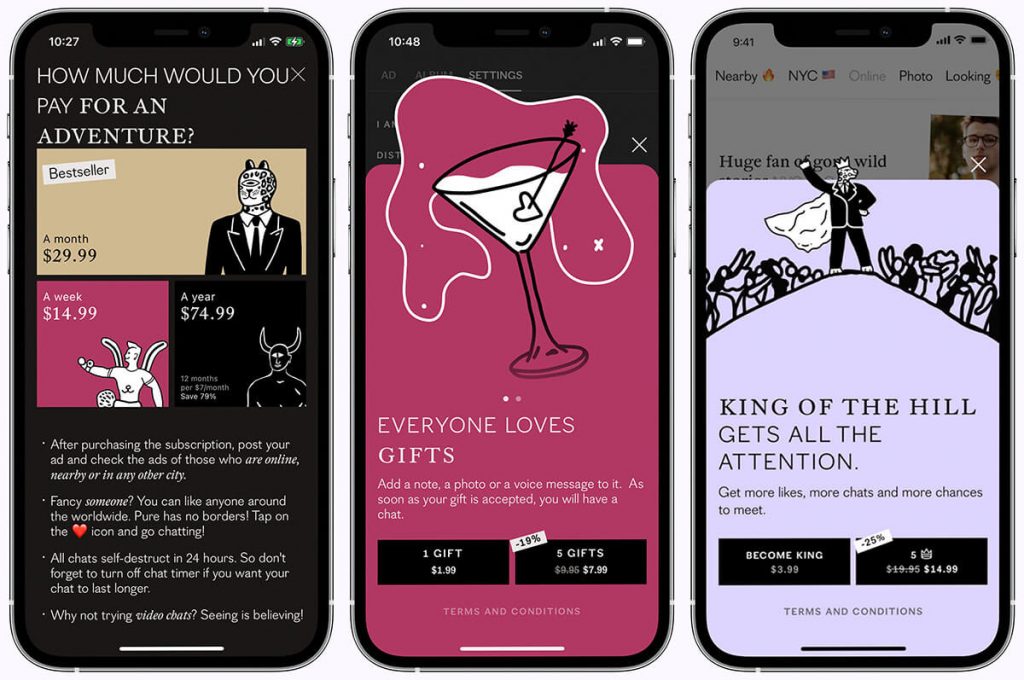 Pure has a different pricing strategy for male and female users. For instance, women are allowed to use the messaging feature for free. Men can't send messages for free and must subscribe to Pure premium membership via Google's or Apple's subscription systems.
Men do have access to a 3-day free trial. During the trial, you will have access to all features to test the platform and decide whether you want to pay for your first subscription. Be careful, though. To activate the free trial, you need to enter your payment details, and if you forget to cancel the subscription, you will be charged.
Pure premium membership is available through three subscription plans – weekly, monthly, and yearly subscriptions. Premium members benefit from instant and limitless messaging and the ability to send get requests in their area.
Pure Premium Membership Pricing
| | | |
| --- | --- | --- |
| Plan | Monthly Cost | Total Cost |
| 1 Week | $59.96 | $14.99 |
| 1 Month | $29.99 | $29.99 |
| 12 Months | $6.25 | $74.99 |
To answer the question, if you are a woman, you can use Pure for free, but if you are a man, you can use it for only three days free. Lastly, don't waste time looking for options to cancel your subscription in the Pure app. You have to do so through Google Play Store or App Store.
Is Pure Worth Paying for?
Is a Pure premium membership worth your hard-earned money? Well, that's a tricky question to answer. As you can see, if you are a man, you must subscribe to a premium membership if you want to use the app past the 3-day free trial.
The premium features will enable you to chat freely with your matches and only match people that are nearby. Given that this is a hookup app, if you are interested in erotic adventures, you should consider giving this app a try. With additional features such as Devil's Bones Game and Instant Chat, you can increase the chances of finding a like-minded individual to spend a night with.
Pure pricing plans are slightly above the industry average. The popularity of the app and the number of features justify the price point, especially when you consider that you won't stay subscribed to it for longer than a couple of weeks or months at a time.
How to Create a Pure Account?
Registering and setting up a profile with Pure is very fast and easy. It won't take you more than a couple of minutes to start using Pure. You need to download and install the Pure app from Google's Play Store or Apple's App Store. You need to grant permission rights to the app to process your phone number, email, and payment information.
You also have to verify your email or phone number depending on how you choose to register your account. After selecting your gender, uploading a photo, and disclosing who you are looking for, you need to turn your location settings on.
Pure uses your location to provide you with nearby matches so that you can have a better experience.
Is Pure a Hookup App?
Pure is an incredibly popular hookup app that facilitates the connection between people interested in casual sexual encounters. Other apps in this niche are Tinder, Hinge, Bumble, and Bristlr.
If you are not 100% interested in hookups, then you should stay away from Pure – there are other dating sites and apps you can use to meet people interested in long-term relationships.
Is Pure Better than Tinder?
Pure and Tinder are two of the main competitors in the hookup apps niche. It's hard to say that Pure is better than Tinder or vice versa – it depends on what you prefer. Although catering to the group of people with the same interests, Tinder and Pure are pretty different.
For instance, the number of Tinder users amounts to millions, while the number of people using Pure amounts to tens of thousands. On the other hand, Pure offers more engaging communication features such as anonymous audio chat and enables women to use its premium features free of charge.
Furthermore, the biggest portion of a Tinder ad is a photo. On Pure ads, the image is small, and it's the copy of your ad that takes the central place. It can mean that Tinder is more superficial than Pure, which focuses on more intellectual encounters and experiences.
Finally, Pure offers better privacy and anonymity features than Tinder, making it more attractive to individuals who have concerns regarding sharing their private data online.
Best Pure Alternatives
How Anonymous is Pure?
Unlike other best hookup apps, Pure cares about its members' sensitive information. The platform has gone above and beyond in its efforts to protect your private data. It all starts with your Pure profile. Its design and layout are minimalist and provide only essential information for anonymity purposes.
When you create and publish an ad on Pure, it doesn't stay there forever. To protect your online privacy, Pure will automatically delete your ad after 24 hours.
Additionally, premium members have access to self-destructive profile features. If you enable it, your ad will remain live only for one hour and get deleted automatically once it expires.
Pure also has an excellent privacy policy you can review to see how the platform collects, stores, and uses your data. It clearly states that your chats are not stored anywhere and will get automatically deleted after 24 hours.
Your data is encrypted, including your profile photo, your subscription info, and your user ID. The payments are handled through Google and Apple's stores which feature state-of-the-art protection.
What Happens if You Screenshot on Pure?
You are probably concerned with someone taking a screenshot of your chat. After all, taking screenshots on modern smartphones is very easy, and anyone can do it. Well, the team at Pure thought about it.
If you or the person you are chatting with takes a screenshot, the system will automatically notify you of such an event in real-time. Additionally, in its efforts to provide anonymity to its members, the platform also made it impossible for people to copy or save photos and chats.
You also have access to the "Delete all messages" feature. The platform automatically deletes the interaction once you leave the chat. If a user is being a nuisance, you can block their profile which also triggers the automatic delete of past interactions.
Pure is a great online dating app if you are specifically interested in hookups. The platform is available through a web browser and has dedicated mobile apps for both Android and iPhone users. While it's entirely free for women, men have to pay to use it once the free 3-day trial expires. If anything, this app shines in the privacy and anonymity department because it keeps your data encrypted, deletes your ads after 24 hours, and doesn't store any personal information.