Hey girls, are you having trouble writing your dating bio on dating websites? If you've recently signed up for a few dating sites but have no idea what to write in the personal bio part, this guide is for you. Everything starts with the registration process.
Sure, you can always upload hot and sexy photos; that's the easy part. The hard part is creating a dating profile that stands out from the rest and catches the eye. If you've decided to test your luck across multiple dating sites and apps, you should know that each platform requires a different and unique profile.
Some sites are more suitable for serious relationships, while others are more geared toward casual dating and hookups. There's no one-size-fits-all solution here. What works for OkCupid won't do you any good on Tinder and vice versa.
Since we know how frustrating that can be, we've compiled a comprehensive list of top dating bio examples for females that give results. They should help you optimize your dating bio according to the nature of the dating site and make genuine connections. Read on to explore the best dating bio examples for females.
Tinder Dating Bio Examples for Females
If you're a girl looking for hot dates on Tinder, you should avoid long bios that tell your view of the meaning of life. Instead, stick to a short but informative and slick bio that can make people laugh occasionally. It shows your intentions and that you have a sense of humor.
Tinder is a jam-packed dating app. Therefore, you need a short bio that can quickly appeal to the right people. You shouldn't take yourself too seriously. Be sweet, concise, and to the point about yourself and your dating goals. Remember, online dating is all about having fun.
So, don't be afraid to write a playful, concise, cute, and informative bio without sounding too aggressive or serious. Mix your interests with some humor, and you should be receiving top matches in no time. Here are some top examples of Tinder female bios that work.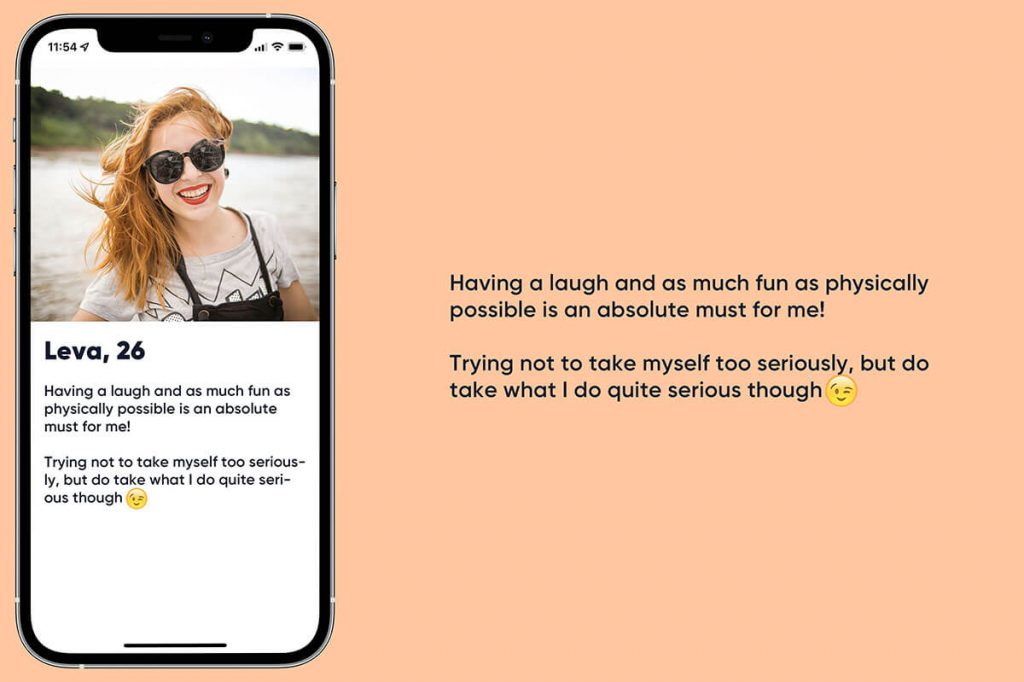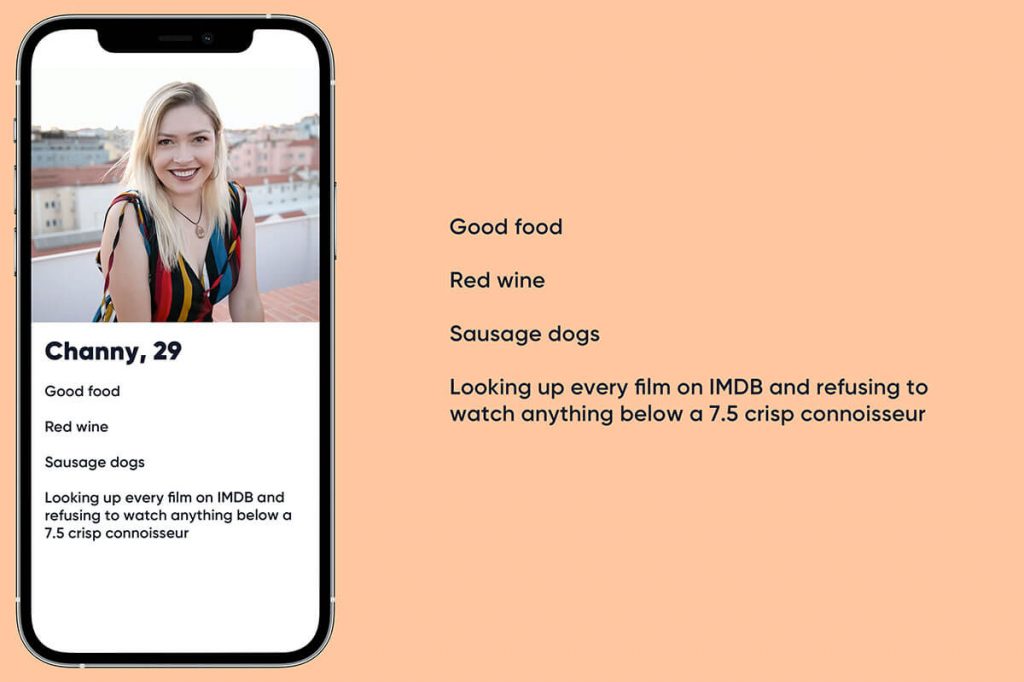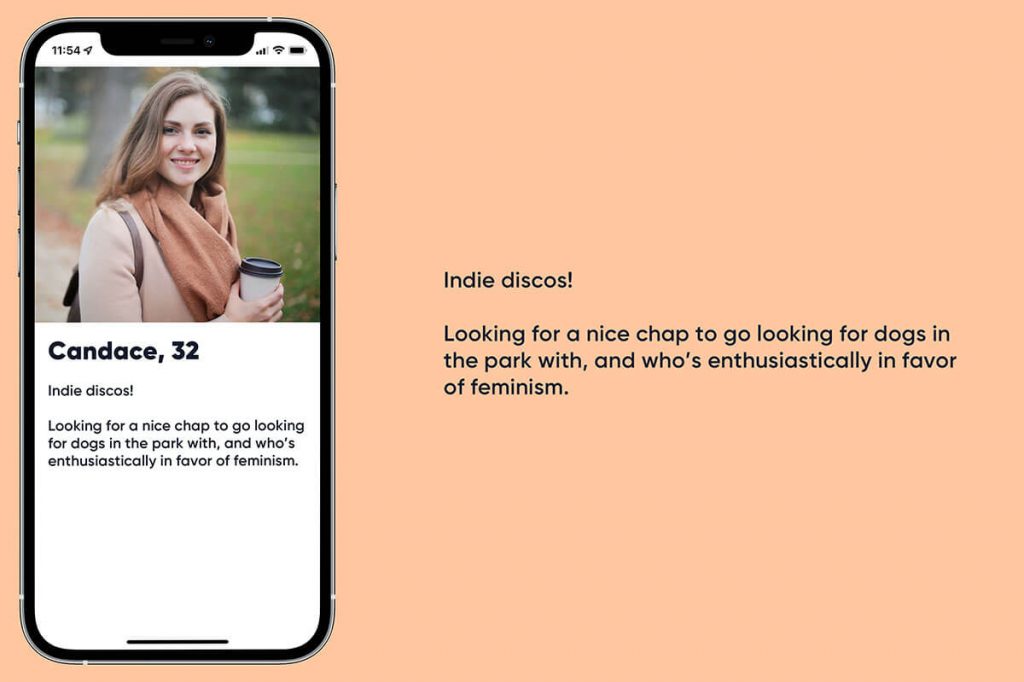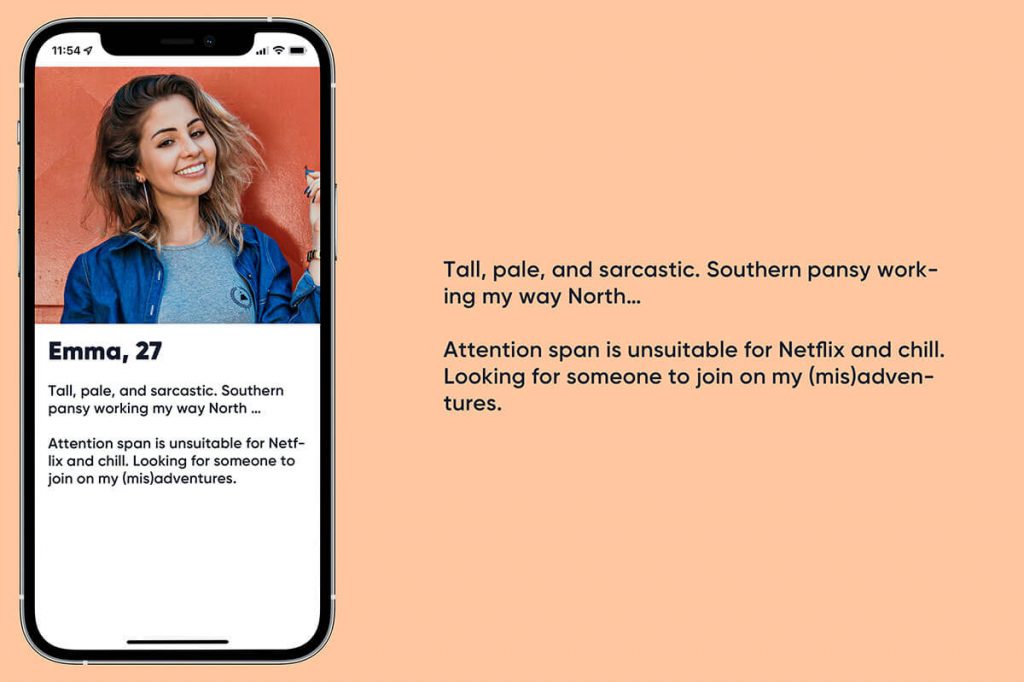 Examples of Female Dating Bios on OkCupid
Compared to Tinder, OkCupid is the exact opposite. Super-short bios won't do you any good here. Instead, OkCupid members are more into long and detailed profiles that provide information on;
Who you are;
Your interests;
The things you're after;
Your hopes and dreams.
OkCupid is one of the dating sites that requires you to take time to complete a profile by offering you a lot of room to write as much as you want about yourself and the things you like. People tend to open up here. They are honest, authentic, and not afraid to express emotion.
So, if you want to score a hot date on OkCupid, you'll need a deep and long bio that tells others a lot about you. The more you express yourself, the more others will be able to understand you. Open your heart to others, and something good is bound to happen.
Here are a few top examples of what works best on OkCupid.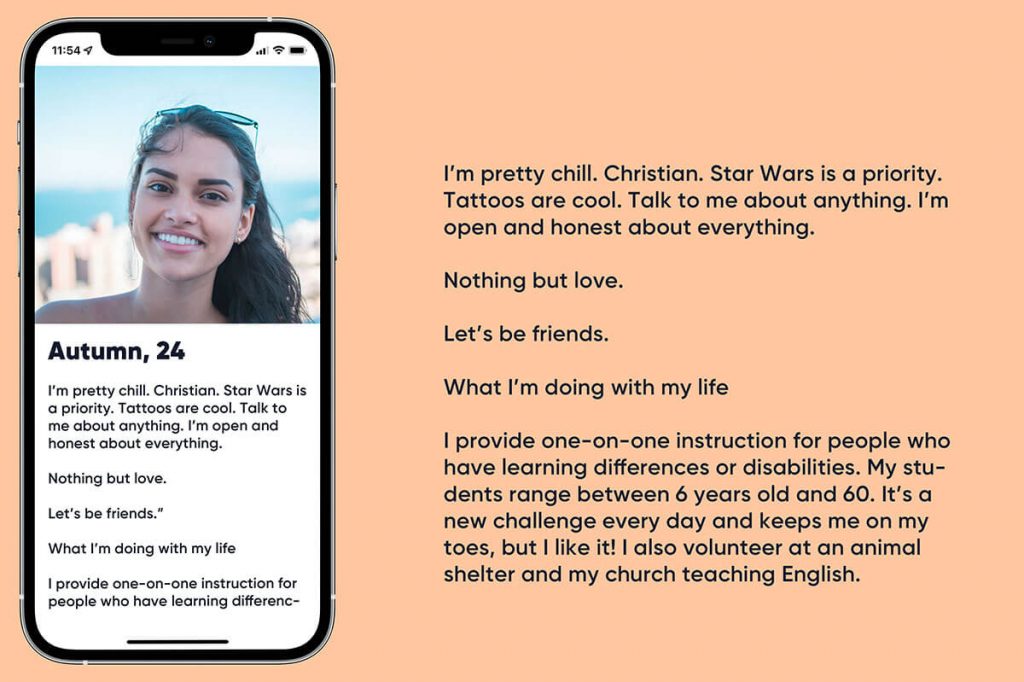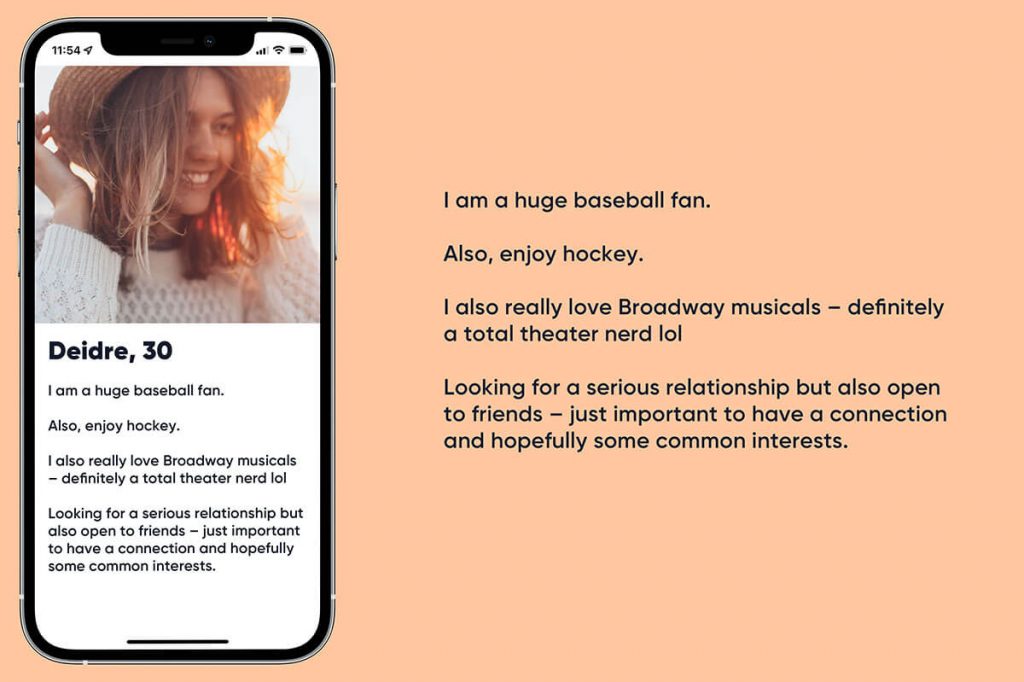 Top Female Dating Bio Examples on Match
Match is a unique dating site that requires a profile geared toward the details about your interests and dating goals. Short bios won't work here. Match is all about creating long, in-depth dating bios with lots of information about yourself, your personal life, and your interests.
While it's not required to be as detailed as on OkCupid, your Match bio should include your passions, hobbies, and interests. Remember, Match members take dating quite seriously, so they don't want to waste their time with people who won't even bother to complete a profile.
Here are a couple of good examples of bios that work well on Match.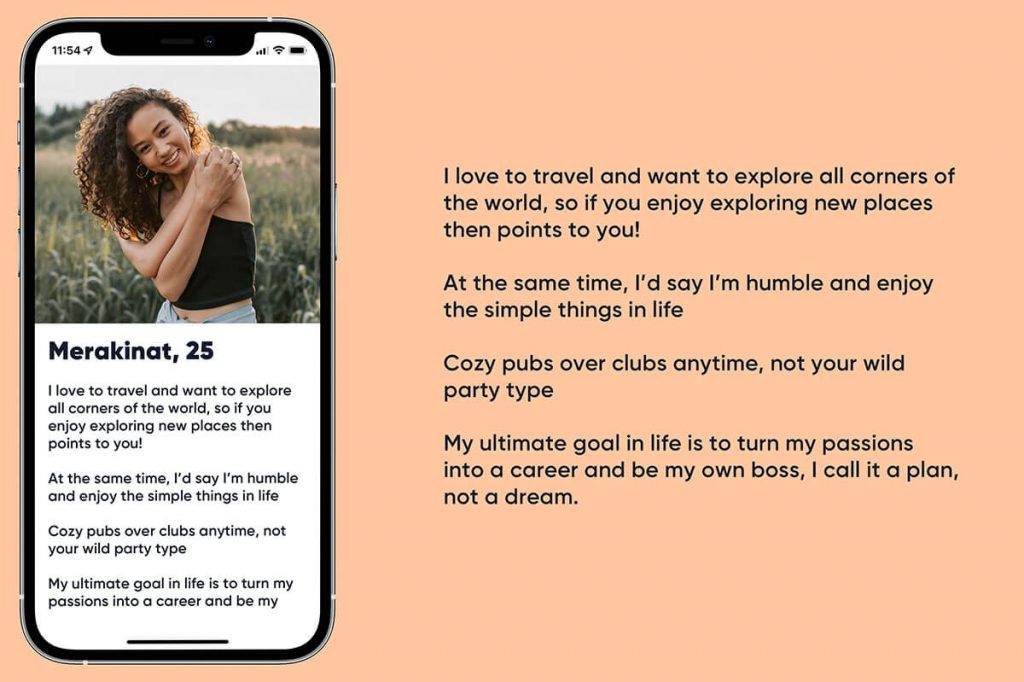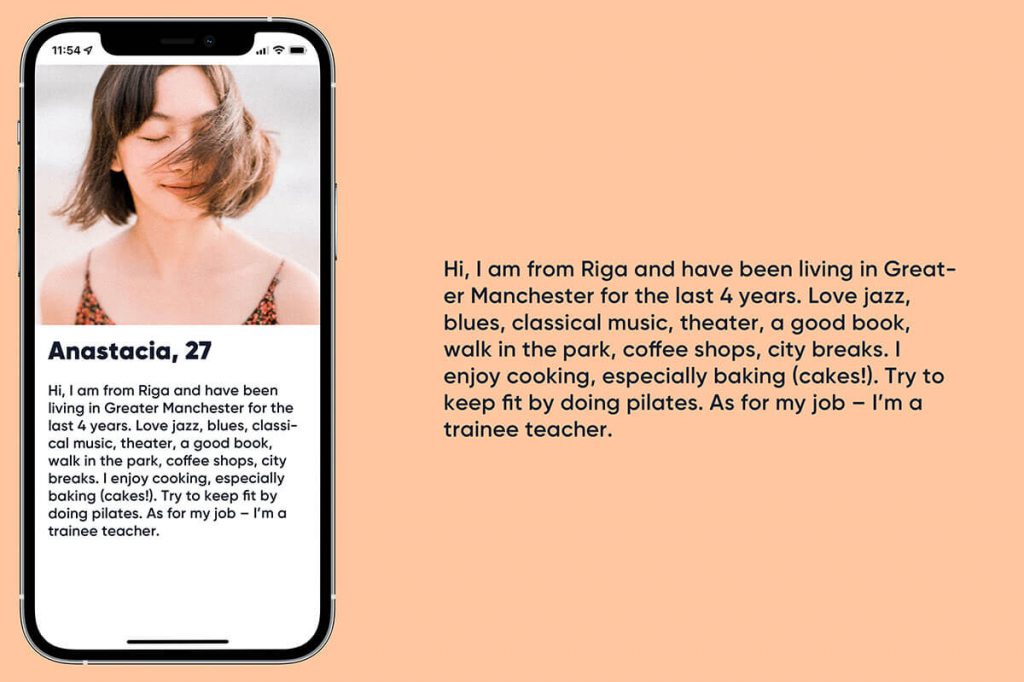 Bumble Female Bio Examples for Females
Bumble is all about short and snappy one-liners, humor, and emojis. Adding an adorable one-liner is enough to get you a few matches right away.
However, Bumble is also about being as original as possible. So, avoid cliches, and use your interests to create a good combo of excitement and humor.
Keep your lists of interests short, and stick to 2-3 interests. Don't forget to spice your bio up with lots of emojis, and you'll have yourself the perfect Bumble dating bio that should help you attract lots of males and females.
Here are several good Bumble bio examples for females to get you started.
Danielle, 24
I love feminism, body positivity, John Oliver, plus size fashion and horror films.
Urshila, 23
I'll roast you but in a fun way.
Kathryn, 24
Just tryna get some free chipotle out of this.
Joanna, 24
Actress, art historian, gypsy woman. New York City native who isn't afraid of nature.
Hinge Female Dating Bio Examples
Hinge is a fantastic dating site for anyone looking for meaningful connections. Naturally, such a site gathers people who want to be taken seriously and are looking to meet genuine singles and form long-lasting relationships.
Therefore, being honest and providing the audience with unique answers about yourself is the best way to get the attention you crave. Hinge requires a genuine bio with lots of positivity and truthful details about what you like and dislike.
While adding a bit of humor is never a bad thing, you should tread carefully with it. Too much humor could mean that you aren't serious about your intentions, and that's not good. So, spice things up with humor and back up your claims with representative photos.
If you say you're into sports, it'd be fantastic if your pics confirmed it. While you should flaunt your personality and even tease and flirt, don't lose yourself in all the playfulness.
Here are some classy Hinge bio examples to get your creative juices flowing.
Kristen, 27
If loving this is wrong, I don't want to be right. Oh, and I love chocolate.
Alijah, 32
What if I told you that your taste in music is trash, could you prove me wrong?
Sarah, 23
I'm weirdly attracted to guys who can roast me but can also handle getting roasted back.
How to Make Your Dating Profile Stand Out
Now that you have some basic idea of what works and what to avoid when writing a dating bio, it's time to review some basic dos and don'ts for dating bios you should keep in mind.
First of all, never try to pretend that you're someone or something you're not – always be yourself.
Instead of figuring out what people want to hear, think about the things you want and need. Think about what matters to you the most. Sometimes, a quirky hobby or something silly that you like is enough to make you unique in someone else's eyes.
Make sure you include such things in your dating bio. Since dating sites and apps gather millions of people worldwide, there are good chances that there's someone out there who's passionate about the same things as you.
Stay away from negativity in your bio, but don't be overly optimistic. Be very clear about your expectations and what you want in a relationship and partner.
Here are several good tips on creating an eye-catching dating bio as a female.
1. Think about your needs and wants.
Before writing your dating bio, make a short and easily understandable list of what you want and need.
2. Flaunt your personality.
Weave your sense of humor and interests into your bio to add some personality.
Keep it short and to the point – as mentioned earlier, each site is unique with different profile requirements. Some platforms require a concise bio, while others require long and detailed information.
Your dating bio should reflect your personality and inspire some curiosity and intrigue. Your profile isn't the same as your CV, so there's no need to list all the jobs and degrees. Instead, stick to your preferences to create an impression that you're easy to talk to and increase your match chances.
3. Stick to the tone of the site you're on.
Always aim to be as conversational, friendly, and honest as possible. However, we recommend sticking to the tone of the chosen platform. Sites for serious relationships commonly require lengthy bios, while hookup sites prefer humor and funny one-liners.
4. Make sure your photos are representative enough.
Being honest about yourself is the most vital part of your dating bio. If you say you're into sports, you should upload photos that can confirm your activities.
5. Photos are essential to creating a top-quality, attractive profile.
No matter how catchy and intriguing your bio details are, the photos make all the difference. They're what members see first when they visit your profile. Photos are the most responsive content on dating sites, and they are far more likely to attract compatible matches and start conversations.
If your photos are striking enough, they will prompt your target audience to send you messages and get in contact with you. We're not talking about professional photographs here, although those could also do the job.
However, people looking for meaningful connections and serious relationships are prone to avoiding profiles with professional photos as they almost always mean that their owners aren't into the same relationship goals.
Of course, that doesn't mean your photos shouldn't be as attractive as possible. Be relaxed and natural when taking them, and don't forget to smile. While you can have group photos in your profile, you should also have a selection of solo shots so that the other members can get a good idea of who you are. In our honest opinion, the best galleries include a nice mix of activity and group shots, full-body images, and headshots.