Going partying and clubbing is an old-fashioned way to meet people. There is no need to lose an entire night on an insecure hookup partner. It's an awful feeling if you screw up your chance for a hookup, just because you are anxious or just laid an eye on the wrong person.
Thankfully, technology has progressed and significantly decreased the amount of effort it takes to find a partner. With dating apps and sites, the entire process is a lot faster – and now it's easier than ever to tell your potential partner's intentions right from the get-go.
Before you make an existing profile on your favorite dating app or website, you should know a couple of ground rules to make sure that you're getting the best bang for your buck.
If you're looking to find out everything there is to know about professional online dating profile creation, make sure to read all of the golden rules below.
Why Are Dating Profiles So Important?
The internet became an essential part of our lives, so the way we present ourselves on the internet is a crucial part of our identities. When it comes to meeting people and hooking up with them – the situation isn't much different.
Dating apps became the most popular way to meet new partners. To meet new people and find a partner, either long-term or short-term – you ought to create an account on one of the most popular dating platforms or more of them.
Creating an account on a dating app is pretty easy in most cases, yet you must choose an app that fits your unique and specific needs.
What Is Your Platform of Choice?
There are thousands of dating apps available on the internet. Most of them are free to use, yet they usually ask you to buy a premium membership to get useful features.
There is a dating app for most social groups – some of them are dedicated strictly to sexual orientations, while others are dedicated to different subcultures. There is a dating app for every niche, anything ranging from:
Fetish dating apps
Casual sex apps
Gay sex apps
Elderly dating apps
Christian dating apps
Bug chasing dating apps
Feminist dating apps
LGBTQ+ dating apps
With a selection like this, you have to decide what kind of relationship you want to be in and find the dating app that suits your needs. Creating an account is always easy if you've bumped into a good app.
How Is its Profile Creation Tool?
One of the indicators that you've made the right choice when choosing a dating platform is an easy registration process. Most apps will ask for your email, full name, and other less private information to make sure that your account is valid.
A good profile creation tool should let you express yourself in the best way possible. It should give you enough tools to make your profile appear informative, but not invasive. When you're making your profile, you don't want to overfill the information.
Putting too much is going to bore your audience. It is going to cut down on the potential number of partners you're going to match with. When choosing the best online dating platform, one of your top priorities should be a top of the line profile creation tool.
What Are The Best Looking People On it Doing?
Like every social media platform, dating apps also have the popularity pyramid. Being popular on such an app will make it easier for you to find and connect with more people. Consider the idea of copying what famous people on the app seem to be doing and posting.
Famous people on dating apps are popular for a lot of reasons. There is no purpose in being good looking if there is no one that will appreciate it. You need people to see it through your account.
Most apps will ask you about some simple things that you're into. Checking those and writing down a short but sweet description of yourself and your characteristics will surely increase your chances of becoming popular on a dating app.
The way you are writing the description is fundamental. Besides being grammatically correct, try to say most things through short phrases. Popular people on the app are probably all good at it, so try to copy from their book.
Also, the best-looking people on the app probably have high-quality photos on their accounts. Taking a high-quality photo doesn't only mean having a high-resolution photo. There are some rules you should follow.
The way you physically represent yourself isn't the most important thing on dating platforms – having high-quality photos will just increase the value of your account. Here are some tips to take a better picture:
Consider the light. This is your priority. Taking photos under daylight provides the best results.
Make a good composition. The composition in the photo is the order in which objects are placed. Having the most important object in the photo in the middle or slightly moved to the left is the most pleasing to the eye.
Choose the right angle. The angle from which you take a photo is critical, as taking pictures from above will make you appear thinner and more developed in the higher back area. Taking them from the bottom will expose things like a double chin, and make your head look small.
Learn where to crop. Cropping the image has some rules if you want to remain proportional. There are common rules for cropping, and those would be not to crop the joints and the top of the head, the forehead, and the chin. The focus is at the center of the image.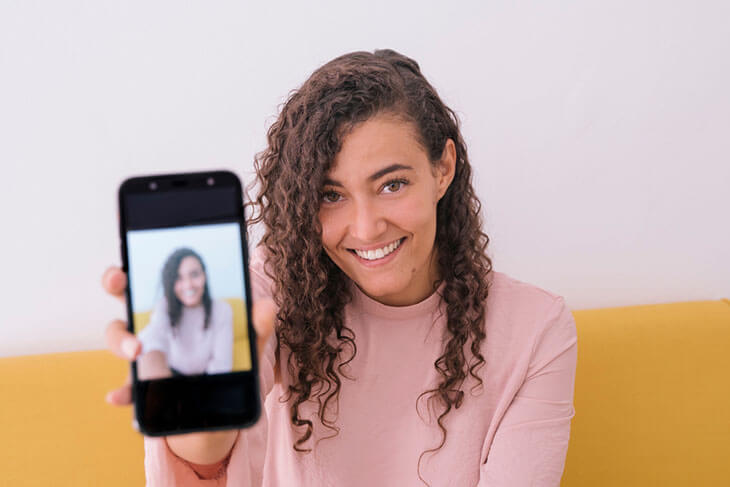 The Importance of Pictures
The impression your possible partner will gather from your photo is crucial for your eventual meetup. A good picture will attract people on a dating app, and your conversational skills will keep them.
Beauty is in the eye of the beholder, and you need a high-quality photo taken from the right angle to prove it on dating apps. Also, it's important to have pictures that suit your character. If you are more of an introvert than an extrovert – you probably shouldn't post photos of you at parties or social gatherings.
Having fresh photos and updating your account is crucial. If you got a new haircut, for example – post a picture with it. Having pictures from way back on your account will leave the impression of somebody who is ashamed of his progression through the years.
Here are some of the essential characteristics your photos should have:
Post diverse photos. Posting different images in different environments will leave the impression of a versatile person – open for new adventures and experiences.
High-quality photos. High-quality photos will show that you care about the impression you leave on people on the internet. Besides that, it will make it way easier to attract people.
Latency Matters. Your photos should tell a lot about you, yet not everything. Being an open book is not attractive in this day and age.
Think before you post. Having a concept behind the photos is preferable. Make a story out of them, tell something attractive to people – and make them think about you.
Watch out for your target group. Think of a way to attract people that are in your target groups. For example, if you're into the political scene, try to appeal to people who share your opinions.
A Whole Story Within a Character Limit
Every dating app has an option for a profile description – you should write a short description of yourself down there. Be concise, yet try not to leave out some essential characteristics of yourself.
Think of a way to introduce yourself, quoting your favorite writer or somebody that influences you is not a bad way to start. Avoid showing off too much. Having too many quotes or bragging-like phrases is not a good choice of words.
Mentioning the activities you are into, where do you study if you do, what do you do for a living and something similar to it will make your account more likely to attract people of similar interests.
A lot of dating app profiles are limited to 120-140 characters per description. Be short and mysterious, yet interesting and catchy.
Never forget to check your grammar before you post your description. Think of a short and exciting way to write down things you read above and remain honest.
Mingling and Discussion Groups
The discussion group of a specified dating app can be one of the ways to find out if the app is good or not. At the least, it's an indicator that people are using it, which is one of the characteristics of a good app.
Those kinds of groups are usually full of fun and useful pieces of information – where you can find an alternative that fits your needs.
In the many discussion groups, you can discuss any given topic. If a website has a single chatroom, they're likely going to have many more that relate to a versatile amount of topics.
If you see a chat room that piques your interests, you shouldn't fret about joining it – as there might be a great potential partner aching to find you there.
The most popular websites have mingling groups that are purposefully built around people looking to find a partner the easy way. You will no longer need guts to slide into a potential partner's DM, as you can contact them through a mingling group.
Your Presence on The Platform
To actually meet someone on the app, you have to know what you're doing. In most cases, there are only two ways to do so. One of them is having a well-presented account; the other is simply purchasing a premium membership.
Not every app has premium membership plans, yet most of them do. Premium memberships usually offer some kind of account boost compared to the regular account.
Some apps require a premium membership to text somebody and to reply to the texts you receive. That method is a little outdated and used to prevent a platform from trolls and scammers – because it's assumed that no one will pay a membership just to troll people.
Others that are free to use are not swarming with scammers, and it's easy to recognize them and report to the app's customer service.
Once you establish your presence on the platform, you will be drowning in a sea of potential partners. It's just a matter of time, effort, and a little monetary lube if you catch my drift.
In Conclusion
Dating apps are a modern and far easier way to meet new partners compared to endless clubbing, debauchery, and partying. The days of spending a whole night searching for someone who fits your needs are over – now you can lay in bed and match with people near you through the flick of the wrist.
All you need is a well-presented profile on a dating platform, followed by some high-quality photos – and everything else will come all by itself. Consider the golden rules above and step into a never-ending world of dating apps. You need nothing but a little dose of effort and a top of the line dating app account to have a lot of fun and achieve your dating goals.