| | |
| --- | --- |
| Category | Rating |
| Popularity | |
| Quality Matches | |
| Ease of Use | |
| Value of Money | |
| Overall | |
There are currently many dating apps available for download, so you might be wondering which one to use. To choose the perfect app for yourself, you'll need to read about people's experiences with different options.
We all know about certain mainstream apps, such as Tinder, but there are many great alternatives like the DOWN dating app. This app is an old hookup app and it is not lacking in any way.
The DOWN app has gained popularity fast, but it is still developing. The app has many fun features others don't offer, which can be a great way to start a conversation with someone. Moreover, we will give a detailed and honest review of the app below.
First, let's look at some features the app has to offer and our opinion on them.
Layout
The DOWN app has a clean and user-friendly design. It's important for the users because they don't want to spend much time figuring out how to use the app. The app's signature colors (purple and black) create a romantic atmosphere for the users.
The app's creators wanted to make sure that their users would relax while using the app, so they used a minimalistic design for their app. Everything is well organized, and all features are easy to access.
We think this is one of their best features because you won't have to spend much time on the app to learn how it works.
Availability
The DOWN app claims that the app is available for people all around the world. However, since it is not a very popular app, not many people worldwide are using it.
Currently, most of DOWN's users are from the USA or the UK, so it doesn't let you meet people from across the globe.
Honesty
The main goal of the DOWN app is to connect people with similar interests and looking for the same type of relationship. That's why DOWN wants its users to be completely honest with their intentions to land their perfect date.
It's another one of DOWN's good sides because users can skip the talking and immediately jump into action. They don't have to ask about the other person's intentions because DOWN will only show matches that fit perfectly.
Games
When you start chatting with someone, you can play online games with them, and the DOWN app calls this "Fun Icebreakers". This way, you can skip the awkward part and get to know each other through entertaining activities, such as "Would You Rather".
Fun Icebreakers are an innovative and creative way of getting to know someone without having to ask questions directly. You can have fun and still learn a lot about each other. We think this is a fun and innovative way of getting to know someone through a dating app.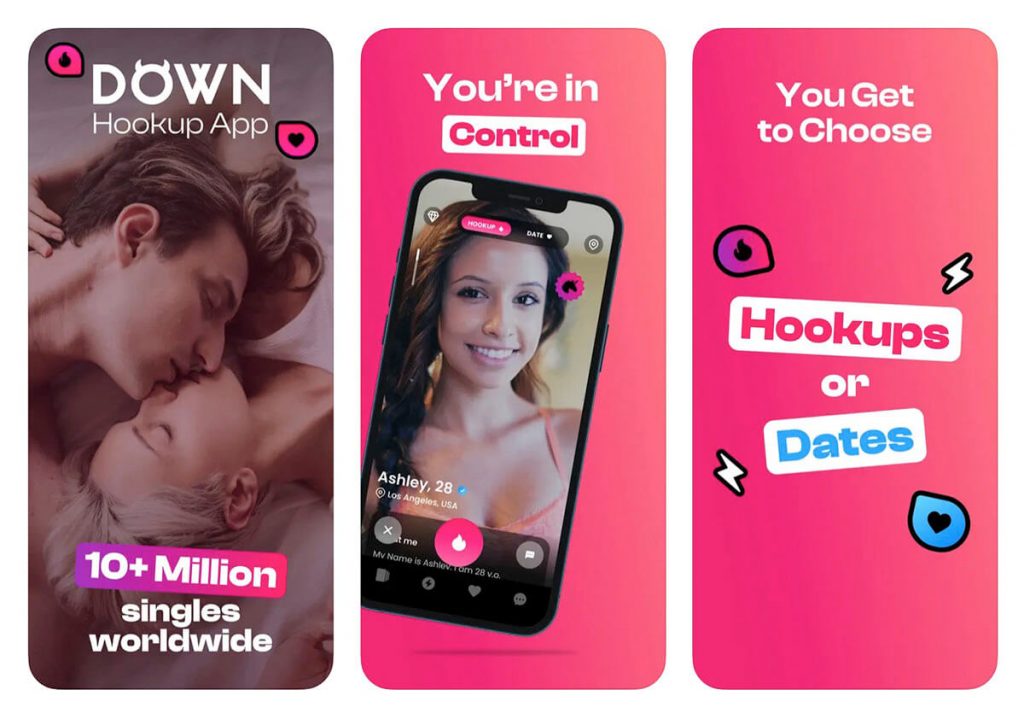 Swiping
Most dating apps use a swipe left-swipe right system, but DOWN wanted to be different from all the apps out there. They have created an up or down swipe instead of the classic left and right setup popularized by Tinder.
If you want to date the person who pops up, you can swipe up, and if you imagine them in a more sexual environment, you can swipe down. This way, you won't have to explain your intentions to the person you match with.
However, if you don't want any of the two previously mentioned options, you can swipe left. We think this is a great feature because people can see your true intentions. There is no need to spend time explaining what you want from a relationship; the app will do that for you.
Nearby Picks
Nearby picks is a feature this app offers, presenting top picks for you daily. It uses an algorithm that finds the perfect dates for you based on your preferences. That's why you should be completely honest about what you want when you create an account.
Additionally, you can pay $1.99 to get even more Nearby Picks daily. However, this feature will only last for a day, so you need to pay 2 dollars daily to get even more picks.
Although there aren't many Nearby Picks daily, this is a good concept. You can find the perfect match in no time with this feature.
Cost
Just as with most other apps, you need to pay some amount to use all the features the app has to offer. The price is $22.99 monthly, which may be too much to spend for a dating app.
| | | |
| --- | --- | --- |
| Plan | Monthly Cost | Total Cost |
| 1 Month | $22.99 | $22.99 |
| 3 Months | $9.99 | $29.99 |
| 12 Months | $7.99 | $95.99 |
With the paid account, you can also match with people from all over the world, rather than the people near you.
The DOWN dating app also offers the possibility of "Supercharge Boost", so your profile will stand out for 1 week. The price of this option is $4.99. If you want to reach a wider audience, this feature is the way to go.
When you consider all the features it has to offer, it might be a good price. On the other hand, this app still needs to develop its network of users, so, in conclusion, it is a bit too pricey.
While there's a way to create a free account, the options are limited, and we will talk about that next.
Free Account
It is a good thing to offer a free account so the users can see whether they like the app or not without having to pay for it. Of course, the options and features you can use are limited, and here is what you can do with a free account on the DOWN dating app:
You can only see ten profiles a day and swipe on them;
Chat with your matches for however long you want.
It doesn't sound too bad, right? Well, you are limited to only ten profiles a day, and you might not like any of those ten profiles. However, you won't use the app too long daily. Additionally, you can chat as long as you like, but with your matches only.
This free account is better than most. You don't have to pay for a membership to use the app, but if you do, you will unlock many cool features.
Advertisements
We all find pop-up ads annoying and irritating, but you won't have this problem with the DOWN app. This app is not packed with advertisements, but quite the opposite – there are none. You can enjoy the app without feeling annoyed by the ads.
It may be one of our favorite features since we got so used to pop-up ads being everywhere. It feels good to open an app and use it without looking for the little Xs to close the ads.
However, this might be the case because the app is still not developed, and it is not a popular one. We will see how this works once the app reaches its full potential.
DOWN Alternatives for Casual Hookups
Overall Review
The DOWN dating app offers many cool features that other dating apps don't. Their motto is to be honest because this is the only way to find what you are looking for. They offer top security and privacy for their users, so you won't have to worry about getting exposed.
DOWN uses innovative and creative ways to bring people together and shows their users their perfect matches. You won't have to swipe endlessly before finding someone that shares the same interests as you.
Although the app is easy to use and has some amazing features, it might not be the best on the market. People say that there aren't many people using the app currently, so you might not find what you are looking for.
Another thing that we consider a downside is the price of the premium account. Although the app is fairly unpopular, its price is quite high. As previously mentioned, this app doesn't have a good network of users, so paying $22.99 for a premium membership may not be worth it.
However, this app still needs a bit of development, and we can surely say that it has the potential to become one of the best apps to meet new people on the market. This app includes everyone, no matter their sexuality or gender, so you will, eventually, be able to find what you are looking for.
Overall, we think this app is worth it and has the potential to become the most popular hookup app. The creators just need a way to target the proper audience and attract them to use the app.