| | |
| --- | --- |
| Category | Rating |
| Popularity | |
| Quality Matches | |
| Ease of Use | |
| Value of Money | |
| Overall | |
In the modern era, where technology plays a significant part in our lives, people have turned to online dating – meeting people online rather than in person. In the 21st century, many people feel more comfortable meeting people online than face to face, and there are many reasons behind it, such as shyness, social anxiety, etc.
Moreover, people sometimes look for a different type of relationship than the traditional, long-term ones that lead to marriage. They want to fulfill their needs without committing to someone and start a serious relationship with them. This review presents an app that lets you meet relationship-minded people, but not in a traditional sense.
If you are looking for a relationship you don't have to commit to, one where both parties will be satisfied without having to involve emotions, you are in the right place. I have reviewed an online dating app called Kinkoo, which aims to connect people with the same physical desires. Here's an in-depth review of the app and my experience with it.
The Background of the Kinkoo App
Kinkoo is an app for anyone interested in BDSM or having some fetishes they want to try. This app allows you to meet people who want the same as you regarding physical pleasures without facing judgment. It functions like a social media network where you can post your kinks and see who shares the same interests as you.
When you start using the app, you will also be able to build a better connection with yourself because you may discover some new kinks you would like to try. You will get to know your body better and act according to your needs. Moreover, you can create a free account and use it for as long as you like.
The Kinkoo app launched in 2017 and has built an extensive network of users sharing the same sexual interests. It has connected thousands of people throughout its existence and helped form happy and fulfilling relationships. Kinkoo is much more than a traditional online dating app; it is a community of people who share the same interests.
Best Alternatives to Kinkoo
Let's take a closer look at the registration process and the most notable features.
The Registration Process Is Quick and Easy
If you decide that you want to use the Kinkoo app to explore your interests, you will first have to download the app to your smartphone device.
The app is available for Android and iOS devices, and you can download and install it completely free of charge. Once you complete the installation, you can jump into the registration process.
To create your account, you must come up with a username, input your email address, create a password, and prove that you are 18 or older; that's about it. There are no additional steps to activate your account or share any additional data other dating apps require (such as bank account info).
Once the registration process is complete, you can start creating your profile and will come across various questions regarding your sexual interests. You will get to build a biography and insert some of your erotic pictures other people can see. You can also start using the Feed feature to post some of your favorite sexual interests and let others who share the same interests match with you.
You can use the app's unique profile verification method if you want to. Namely, the app encourages you (it is not necessary) to verify your profile by taking a picture of yourself holding an object with the word "Kinkoo" on it.
Is the Kinkoo App Free of Charge?
As I mentioned, you can create your free account in a few easy steps and use the app to find relationship-minded people. Is there a catch when it comes to additional charges or some hidden fees you have to pay? Most modern dating apps will have such additional fees, and Kinkoo is one of them.
Kinkoo has one of the best free account options on the market currently. You can access pretty much everything you need with the free version – you can text, match, scroll, etc., with no difficulties. However, if you want to access more features, you can subscribe to Kinkoo's VIP program.
Costs for Kinkoo VIP Membership
| | | |
| --- | --- | --- |
| Plan | Monthly Cost | Total Cost |
| 1 Month | $15.99 | $15.99 |
| 3 Months | $12.99 | $38.99 |
| 6 Months | $9.99 | $59.99 |
This program will let you swipe an unlimited number of times daily, target people from a certain location, and see the profiles of people who have liked you. You can also block or restrict accounts with the premium version.
Another thing you can buy in the Kinkoo app is coins you can use for various purposes. For example, you can spend 100 Kinkoo coins to highlight your profile and make it more visible to other Kinkoo users.
The price of the VIP Kinkoo account is $15.99 for a monthly subscription, $38.99 for three months, and $59.99 for six months. Coins can cost anywhere from $3.99 for 40 coins, to $48.99 for 1000 coins.
Costs for Kinkoo Coins
| | |
| --- | --- |
| Amount | Cost |
| 40 | $3.99 |
| 100 | $7.99 |
| 300 | $17.99 |
| 1000 | $48.99 |
Why Is the Kinkoo App so Popular?
Since the creation of this app, many people have decided to create their accounts and explore their wild sides. This app is pretty popular among people for several reasons. Here are the most notable.
Firstly, this online dating app has a different approach to the dating community. Nowadays, more people are looking for something casual, something they won't have to commit to, and many other dating apps aim to connect you to your soulmate rather than a sexual partner.
This app can help you reveal your wild side and explore your body as much as possible. Using this app can also make you feel like you are building a better relationship with yourself.
Secondly, you can use the app entirely free of charge. I'm repeating myself here, but I still can't wrap my head around that fact. You can try your luck in the online dating world without paying a dime.
That makes many people opt for this app, driving its popularity through the roof. The cancellation process is also straightforward if you don't find yourself belonging to the Kinkoo community.
Lastly, using the app is fun since it doesn't look or function like a regular dating app. You can still swipe and match with other people, but you can have an insight into their profile or feed to get to know them better before you start chatting. Of course, you should also build an attractive profile because people will want to learn more about your kinks and interests.
Weird Profile and Messaging Features on Kinkoo
When you create your profile, you need to upload some of your pictures that best display your personality and interests. Since Kinkoo is a BDSM app, you might expect to find various explicit photos on other people's profiles, but that is not the case. You won't be able to put inappropriate pictures on your profile, which contradicts the purpose of the whole app.
Moreover, if you have some watermarks, the app will automatically censor them in your pictures. You won't be able to use any sexual terms on your profile, which is also on the opposite side of the purpose of the Kinkoo app.
How are other people supposed to know about your sexual interests if everything you type is censored? It is a mystery I don't have the answer to yet.
When it comes to messages and chatting, you can use some inappropriate terms since your chats will be private. No one will censor the words you use in your private conversations.
However, the weird thing about Kinkoo's messaging system is that you can't send videos to other users. Pictures, texts, and GIFs are fine, but videos are out of the question. If you want to visually express yourself, you might want to look for an app that supports sending videos, such as, ironically, any other chatting app.
The Kinkoo App Isn't Easy to Use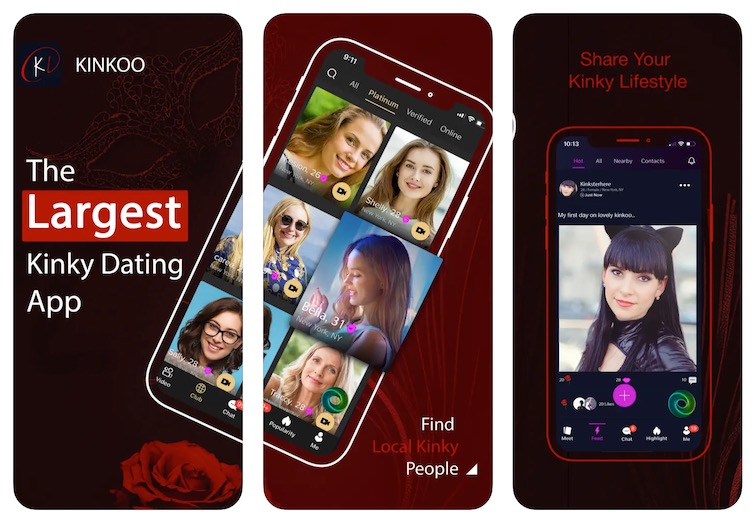 The Kinkoo app has a lot going on regarding its interface. When you visit the website, you will be surprised by how clean and organized it looks; the app is the opposite of that. You will get the sense that you don't know where something is located and you may spend some time trying to figure it out.
There are various ways to find the person you are looking for, such as through Feed, Meet, or Find options. The feed functions like a social media platform where people post about themselves. The Meet option is the standard swipe-and-match feature, and the Find option displays six people at a time, and you can swipe on whomever you find attractive.
Having multiple meeting options is an excellent idea, but, in this case, they don't differ that much from one another. You will still see the same people but in a different light; you won't get any new options in any of these meeting solutions.
Overall, the app isn't easy to use and might be a bit confusing to beginners. Still, you will get the hang of it after some time. Some features are completely unnecessary, and their only purpose is, seemingly, to confuse the users of the Kinkoo app.
Although It Is Legit, It Is Full of Scammers
If you like how this review is going so far, I might have some bad news for you. Since you don't have to verify your account, anyone can open an account on Kinkoo and go under a fake name. Most of the profiles you can find on Kinkoo are scam profiles, which is the sad truth behind its "wide network of users."
These profiles might send you lots and lots of messages, such as promoting or marketing messages (primarily for adult sites), which can be pretty annoying. You will rarely get the chance to connect with an honest person looking for a compatible match, and there is a chance that the account you match with will be fake. You must check who you are chatting with before agreeing to see them in person.
I don't particularly appreciate that anyone can access the Kinkoo app, and there isn't any verification process regarding age. That is a massive downside of this app. Children can also be exposed to it; no one wants that to happen.
Overall, you may come across some real profiles of people interested in dating, but you will mostly see scam profiles that won't get you anywhere. Many people have given up on using this app just because they could not find a date for a long time. Although it is a legit dating app, it is not the best at filtering out fake and scam accounts.
My Experience
When I first came across this app, I thought the concept of dating on it was innovative and cool. I wanted to explore more and see what other people were into, so I created an account. The first thing that bugged me was that there was no verification process, and I instantly knew that the app wasn't very safe to use.
Because of that, I could not feel entirely comfortable using this app. I knew that I would most certainly come across spam accounts, but I couldn't have imagined that almost every account would be a fake one.
As soon as I created an account, I had a negative attitude toward the app. I gave it the benefit of the doubt and invested some time in it, but I hardly moved from square one.
Yes, you can use it for free, and yes, you can explore your wild side, but there aren't many other advantages to using this app, to be honest. You will barely get to meet or date anyone, and you will get a lot (and I mean a lot) of spam messages daily, which will surely irritate you at some point.
Although Kinkoo is a legitimate app that won't try to scam you, most users are fake, and you might get into trouble if you connect with any of those spam accounts. Overall, the idea is there, and it is good, but the execution needs to be a bit better.