| | |
| --- | --- |
| Category | Rating |
| Popularity | |
| Quality Matches | |
| Ease of Use | |
| Value of Money | |
| Overall | |
Founded in 1996, AdultFriendFinder (AFF) is a classic adult dating website that gathers more than 112 million members from all over the world. It's considered one of the oldest and most well-known adult dating websites.
Since we all know what a pain in the ass finding quick sex can be, knowing that there's a top-quality, trustworthy website for hookups is almost too good to be true. Well, AFF is all that and more. The site aims at indulging your naughtiest, most erotic, sexiest, and kinkiest sexual fantasies online.
It offers access to online dating preferences, including hookups, swingers, friends with benefits, casual dates, etc. AFF is a perfect online dating site for anyone looking for threesomes, casual sex, and occasional flings.
The site works as an interactive social network for people looking for hookups, swinger sex, and everything else in between. In other words, if you're after a hot hookup tonight, AFF is the place to get it. Now, I'll quickly review the site's history and everything else you should know before joining, so you know what to expect.
✓

The Good
Swinger and kink-friendly
24/7 customer support
Free registration and features
Affordable premium membership
AFF gathers millions of active members monthly
Members are into hookups and casual dating
Tons of hot and sexy content is available
Access to top features, both free and premium
✗

The Bad
No mobile app
Outdated design
Free membership offers limited access
65% males, 35% females
Male members find it hard to get a date
Poor photo verification process leads to many fake profiles
Profile verification requires presenting your personal ID
Most female members are cam models or scammers and sugar babes looking for quick cash
---
Here's a Short History of AdultFriendFinder
For all the uninitiated, AFF has been the bastion of online adult dating for almost 30 years now. The site provides an adult dating platform where people can become a part of the world's largest swinger and sex community.
In other words, this is your go-to online dating site when you're looking for quick sex. If you're tired of all the relationships in your life and just want some quick and hot fun, AFF should be the first dating site to check out.
Considered one of the largest, most well-known dating sites on the web, AFF allows you to connect with millions of members and find quick flings, regular hookups, casual dates, and everything else even remotely related to sexual desire. Everything about AFF is screaming sex all over the place.
Whether you want just a quick sexual encounter or something more profound, the site has millions of active members from various countries.
AdultFriendFinder's Visits by Countries
AFF is a top-rated dating site that offers all types of casual dating, which is why so many people choose to put their trust in it. If you're looking for a good time online with no strings attached, the chances are that AFF can deliver big time.
Completing the Registration Process Requires a Few Minutes of Your Time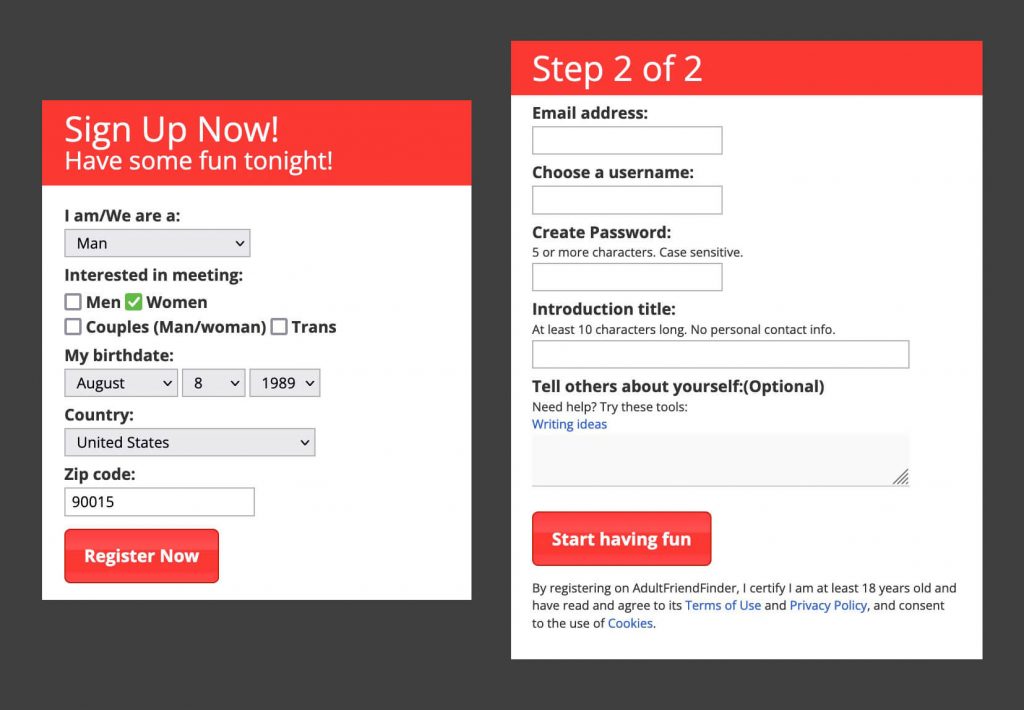 For all those signing up for the first time, the registration is fast and easy to complete. It takes mere minutes to get it all done. The initial signup requires you to go through two pages you need to fill in. Trust me when I say that it's not that bad. It took me a couple of minutes to complete the registration but it was nothing too tedious.
The signup pages include your headline, username, and details such as your area, gender, age, and dating preference. My favorite part was that the site took quite an interest in my sexual preference, including the gender I preferred dating and my sexual orientation. The more details you disclose about yourself, the more compatible the matches you receive in recommendations.
Before you can proceed to use the site, email verification is necessary. Now, this is a really good sign of a trustworthy online service that won't just abuse your personal information. Email verification significantly reduces the chance of running into fake profiles. I also loved that there's an option to browse AFF anonymously, for all those who don't feel ready to get into the dating part just yet.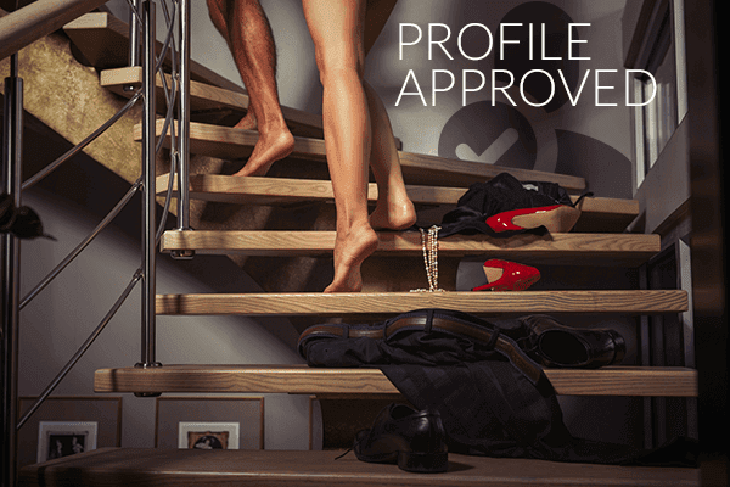 Here is a quick overview of the required information you'll need to disclose:
Valid email address required to complete the signup process;
Your personal details and photos to start receiving match recommendations;
The site's customer support team must approve your profile before you can use it;
While pending approval, you won't be able to check blogs, videos, photos, messages, and comments or like photos of other members.
When it Comes to Profile Quality, Go for the Premium Membership
If you want to discover real, genuine profiles on AFF, I recommend looking out for members with the gold premium membership. Premium members pay good money to use the dating service, and they're the best proof of how far a quality profile can take you.
AFF gathers both premium and free members. If you only connect with free members, the chances are that you'll come across fake profiles or inactive members. Premium members with gold subscriptions will have the gold member icon next to their profile name.
It was my understanding that many members wouldn't be willing to meet people who wouldn't invest in their effort to create a decent profile on a dating site. After all, that makes sense. That's why a gold membership is like a seal of approval. It makes you credible and genuine and, therefore, desirable.
Here's what I find to be a downside to creating a profile on AFF. Since there is no automatic blocking mechanism, anyone can upload anyone's photos and fake information regarding their gender, location, and identity. The site doesn't verify such things and that's a real downside.
Because of that, most members avoid free membership and will only contact premium members since they are more trustworthy. However, that is a bit problematic since most members use free subscriptions. My advice to you is to use common sense – if a profile photo looks too good to be true, that's because it's fake.
Here Are the Unique Features You Can Find on AdultFriendFinder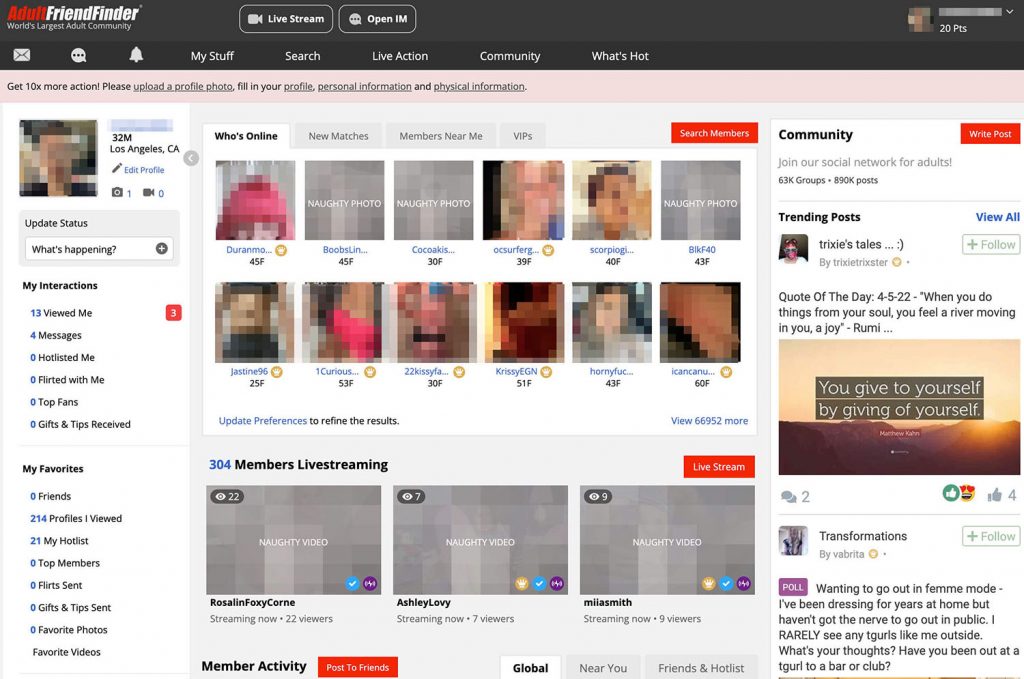 I tried AFF with both free and premium memberships. A free account offers access to the following features:
An option to like photos and videos of other members;
Access to your HotList of sexy profiles;
Access to various AFF groups;
An option to leave a comment on photos;
Preview videos;
Search filters.
Paid membership allows you to:
View full profiles;
Access messaging and send and reply to messages from other members;
Add other members;
Access adult chatrooms;
Watch live streams.
Premium features are worth checking out as they significantly increase your chance of finding more compatible matches. The most important AFF features include:
Live webcams – connect with various active members and start private chatting sessions;
Blogs – everyday members create blogs where you can read their erotic stories for free and more;
Verification system – before a new member can use AFF, their profile must be verified via valid email to confirm their identity and minimize security threats;
Search filters – search filters allow you to navigate AFF and receive match recommendations from your area and beyond;
Profile questionnaire – AFF asks you a range of personal questions to help you create a detailed profile that makes receiving compatible matches easier.
What Makes AdultFriendFinder So Popular?
Like most online dating sites, AFF allows you to sign up and use some of its features for free. Because of that, millions of members looking for casual dates join AFF. Another reason is that it's quite affordable. You can get annual gold membership for less than 20 bucks per month. The pricing is really down to earth compared to other popular hookup sites on the web.
The fact that it's a site for everything related to sex is saying enough on its own. However, the biggest reason why AFF is so popular is the affiliate program. It allows webmasters to earn a fee for referring users to AFF. The site gathers one of the largest kink-friendly, swinger, and sex-positive communities.
You'll find top-notch sex-related content on AFF that no other dating site offers. Members take hooking up quite seriously and that's a good thing. AFF gets more than 55 million visits monthly and offers lots of interesting content, including nude photos, sexy blog stories, hot videos, etc.
People come here looking for sex, making AFF one of the most straight-to-the-point adult dating sites on the web. With so many active members, finding a hookup on AFF is a walk in the park. Since the site offers daily recommendations on compatible matches, there's always someone else looking for you. However, if you're into a serious relationship, AFF may not be a good dating site for you.
What the Gold Membership Brings You

AFF gold membership comes in three different time periods:
| | | |
| --- | --- | --- |
| Plan | Monthly Cost | Total Cost |
| 1 Month | $39.95 | $39.95 |
| 3 Months | $26.95 | $80.85 |
| 12 Months | $19.95 | $293.40 |
Any of these options allow you to view full profiles, send unlimited friend requests, flirts, and messages, and view full-length personal videos and full-size photos. You also get unlimited access to adult chatrooms and live streams and your own video uploads.
The thing with going premium on AFF is that it makes you trustworthy. Both males and females will want to take a shot at you because of it. There are many free members too, but they have restricted access to some of the best features that you need to make matches, engage, and all that.
Top AFF Highlights to Pay Attention to
The monthly membership is only $39.95;
You can save by purchasing a 3-month membership for $80.85;
AFF is all about sex;
Great for chatting, hookups, and sexting;
Massive user base with lots of active members;
Free registration and affordable premium membership;
You can boost your profile to get more exposure in search and browse results;
AFF can highlight your emails to get more matches.
AFF Points Briefly Explained
AFF uses points to help members unlock more features and have more fun on the website. Here is the scoring system:
You can buy 200 points for $3;
500 points cost $6;
10$ will get you 1000 points.
Points give you access to special features such as HotList. You can select your favorite members, add them to your HotList, and become their Top Fan. Points also allow you to send virtual gifts to cam models and other members to grab their attention. You can also use points to tip members in live member webcam shows.
Here is a List of Features that Require Points
Earning points allows you to unlock the following premium features:
Sending tips to cam models in live webcam shows;
Points allow you to become a Top Fan of the hottest cam models;
Send virtual gifts;
Send flirts to grab someone's attention for 110 points and give them access to your full profile and full-size photo gallery for 30 days;
Access live member webcam sessions for 28 points per session.
Tokens
100 Tokens for $12;
185 Tokens for $20;
500 Tokens for $50;
1000 Tokens for $99.
Tokens allow you to tip cam models in private and tipping sessions. You can use them to connect with Connexion and Buzzmode sex toys, get exclusive access to the sexiest AFF adult stars, and automatically reload your wallet.
Does AdultFriendFinder Have a Spam/Fake Account Problem?
Yes, AdultFriendFinder has a spam/fake account problem. In 2016, AFF suffered a data breach that left millions of users with their profile details exposed to the public.
While AFF has stepped up the security game since then, it still has no way to verify the details on the profile like gender, location, etc. So, your average scammer can easily generate a large number of fake profiles and spam other members.
The site actually provides two ways to get verified but it's not required. When I looked at the profiles on AFF, most of them were not verified and some were obvious fakes based on their profile photos – a quick Google image search revealed that many of these were stolen from minor celebrities and IG models.
To avoid scams, it's best to connect with Gold members and people who are confirmed via their ID. Also, it's a red flag if someone asks you for cash or financial help for any reason.
Best AdultFrienderFinder Alternatives
My Experience
I decided to give AFF a try by signing up for free and using only free features for a few weeks. A free membership gives you very limited access to the site's features. You can only browse the site for other members without any restrictions.
Anything more than that requires an upgrade. The only way to connect with other members is to purchase the gold membership and access a range of features, such as viewing profile information, leaving comments on photos, sending gifts, and more.
The Premium membership also allows you to open, read, and reply to messages and create your HotList of the hottest members. However, even though I managed to connect with other members, I couldn't tell whether their profiles were fake or real since most weren't verified.
One thing is for sure – the moment you log in using a premium membership, you'll see lots of hot and sexually arousing photos. If you're into casual hookups and viewing sexy cam shows of hot girls, AFF is the site for you.
More on the Web:
https://mashable.com/review/adult-friend-finder-review-dating-site
https://datingxp.co/adult-friend-finder-review/
https://www.quora.com/Is-AdultFriendFinder-legit-or-a-scam
https://www.sitejabber.com/reviews/adultfriendfinder.com
https://www.trustpilot.com/review/www.adultfriendfinder.com
https://www.datingscout.com/adultfriendfinder/experiences
https://www.reddit.com/r/Tinder/comments/skxw7q/the_adultfriendfinder_experience/