| | |
| --- | --- |
| Category | Rating |
| Popularity | |
| Quality Matches | |
| Ease of Use | |
| Value of Money | |
| Overall | |
With so many dating apps you can use, it becomes challenging to pick the right one. Tinder has paved the way for new swiping dating apps, which seem to resonate with people. One of these apps is Feeld.
Several questions might trouble you. Is Feeld aiming to become the next Tinder? Is it worth your time? Who can you meet on Feeld? Does it offer more than Tinder, and if so, what is it?
Our comprehensive Feeld review will help you decide whether this dating app is the right pick for you.
What is Feeld?
Feeld is a dating app originally launched as 3nder (reads as "Trinder"). In 2016 the app was rebranded and changed its name to Feeld. We are talking about the classic swiping dating app here. In many instances, you will find Feeld similar to Bumble and Tinder. However, one huge difference makes Feeld different from its main competitors.
In fact, it's an app that can satisfy more than just your vanilla dating cravings. If you want to explore some kinks and invite couples to your bedroom, you will be able to do it, thanks to Feeld. If you are more into vanilla dating, don't worry Feeld can sort you out too.
The Key Feeld Features
The key Feeld feature is matching. It revolves around using two buttons – the heart (like) button and the minus (dislike) button. The like button tells the platform that you want to get in touch with a person on your screen, while the minus button tells the algorithm you'd rather skip. If the person likes your photo back, you have a match, and you can proceed to chat.
Messaging works out of the box. It resembles the other popular messaging apps, so you shouldn't experience any usability problems when trying to get in touch with other Feeld users. Remember that messages only work between the accounts that have mutually liked each other.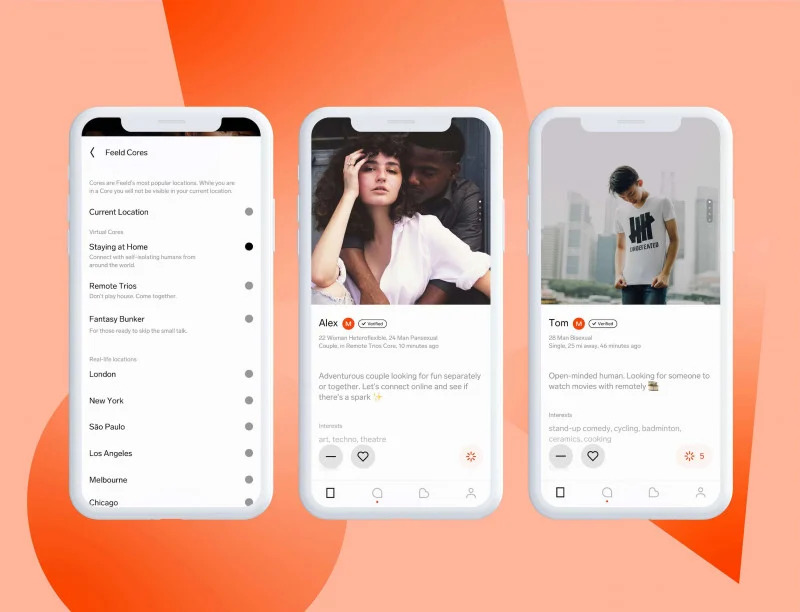 Another key feature is the search, which can help you find more niche matches. For instance, you can apply several filters, including location, to list all the people who match your criteria. Using this feature is intuitive, as is using all other Feeld features while we are at it.
Other features worth mentioning include a notification system and the last activity log. It will alert you when someone wants to connect with you so you can check their profile and respond appropriately. The last activity log will help you access other users' profiles and check when they were last active on Feeld.
Who Can You Meet on Feeld?
Feeld is an international dating app, so you can meet people from all over the globe with this app. While the app has millions of users, most of its users come from the US. There are slightly more male users than female ones.
Feeld is an inclusive app and doesn't belong to any specific dating category. You can see it from the very start as you register your account because the app lets you choose from over 20 gender/label options.
You will have to do a fair share of "swiping" to meet different people and find what you are looking for, be it a serious relationship, a one-night stand, or an adventure with a couple. You should know that over half of registered profiles are couples looking for someone to spice up their love life.
The app is quite popular. Currently, it registers over 500,000 weekly logins, which places it right beside the other popular dating apps.
It's one of the most important things to look for in a dating app because one app's popularity directly translates into higher chances of meeting a like-minded person and getting out on a real date.
How Does Feeld Work?
Feeld is a really simple app to install and use. Once you register your account, you will be able to use it. The app works by providing you with possible matches. However, when you get a match, you won't be able to send messages. First, you need to click the like or skip button. If both you and your match "Like" each other, you will be able to start messaging.
If you don't want to use the match, you will be happy to find out that Feeld also works by enabling users to use the free search feature. You can apply several filters such as "Minimum distance", "Age range", and "Looking for". These filters will help you discover profiles matching your specific criteria.
As you can see, the Feeld app works in very simple ways. You can use some additional features– more about them in the "What makes Feeld unique" section.
Can You Use Feeld for Free?
Users worldwide can download and install the Feeld app completely for free. A free account can get you access to numerous features.
Unlike many other popular dating apps with features locked behind a paywall, tokens, and subscription plans, Feeld offers free access to most functionalities. For instance, you can message the people that like your profile after you like them. Messaging is completely free, and there are no limits.
Feeld Majestic Membership Pricing
| | | |
| --- | --- | --- |
| Plan | Pricing | Discount (20% OFF) |
| 1 Month | $14.99 | $11.99 |
| 3 Months | $29.99 | $23.99 |
Liking other members' profiles is also free. Whether you like the profiles through the match page or search results, it doesn't matter. You can like profiles for free, and there are no limits.
Using the search is also free, along with all the available filters. Simply put, Feeld provides you with all the tools you need to find and date people online without spending a dime. It begs the question of whether it's worth it at all to buy the premium Majestic profile.
Is Feeld Worth Paying for?
Feeld offers three paid "Majestic" memberships. You can buy it monthly or three months in advance. The "Majestic" membership will provide you with the following:
Additional theme for the app;
Photo library that only your matches can access;
Incognito mode to hide your profile from your Facebook friends on the Feeld app;
Last seen feature to see when people were last time active online;
Real-time notifications to see who likes you.
Everyone has unique needs, so we will let you decide whether Feeld is worth paying for. If you don't want to spend cash on the Majestic features, don't.
Two of the Majestic features are pretty handy. Incognito mode can help you remain private even when using the Feeld app, while real-time notifications can help you match people faster. If you find these perks attractive and want to support the app developers, feel free to buy the Majestic membership.
What does Feeld Stand for? Why is Feeld Called Feeld?
After rebranding in 2016, the app got a new name Feeld which stands for openness, discovery, and empowerment. It was all part of a strategy to create the largest sex-positive dating app that both singles and couples can use. However, this is only one part of the truth.
Just before the big rebranding, Match Group, the parent company of the Tinder dating app, sued 3nder Ltd. The lawsuit was based on the "supposed pronunciation of 3nder", alleging trademark infringement.
3nder was renamed into Feeld, a name that should promote and facilitate sexual openness while removing sexual boundaries.
Is Feeld Anonymous?
You are probably concerned about your privacy now that you know that Feeld asks you to provide a link to your Facebook profile and phone number. However, the platform features an excellent privacy policy to ensure the safety and anonymity of its members. There are additional features to help you stay anonymous.
When it launched, Feeld had the "Hide From Friends" feature to help members hide their profiles. Recently, they've updated the feature giving it a more appropriate name – "Incognito". The feature helps users stay anonymous in numerous scenarios.
If you enable Incognito mode, your Facebook friends won't be able to see your profile. However, if you like the profile of your Facebook friend, they will be able to see your profile on the "Who Likes You" screen and Screen. However, they need to be Majestic Members to be able to see your profile.
Meanwhile, other members who are not your Facebook friends and have connected Facebook accounts can see your profile and Like it.
If you are a couple, you should know that all the privacy settings you enable on your Feeld account, such as Incognito mode, will also apply to your partner's profile for true anonymity.
Best Feeld Alternatives for Singles and Couples
How to Sign Up at Feeld?
Not all trustworthy and reliable dating apps have a simple sign-up process. If you like straightforward account creation, then you will find Feeld great. Registering an account with the Feeld app is easy and fast, and as we mentioned earlier, it's completely free.
To create an account on Feeld, you will need your email address and a Facebook account. You also have to provide your mobile phone number. The platform creates your account using your email address. However, in its efforts to identify and filter fake profiles and potential scammers, Feeld made the registration process a bit longer.
The platform will verify your identity and profile details by cross-referencing it with your Facebook account. Verification via a mobile phone is also mandatory to start using the app. Once you meet the verification requirements, you will be ready to use all Feeld features.
Finally, given that many Feeld members are outside of the US, the platform offers localization in several languages, including Spanish, French, German, and Portuguese.
What Makes Feeld Unique?
There are a couple of things that make Feeld a unique dating app. First, it is an inclusive app that doesn't impose any registration restrictions. You can choose from over 20 gender and label options. You can use the app to chat, find casual relationships, or engage with couples in romantic adventures.
Feeld is also unique because it combines the best of two types of dating apps. You can go through your matches and "Like" and "Skip" them as you please, or you can enter the search mode, apply filters, and look for potential matches yourself.
On top of that, Feeld offers unique features. Remember that these premium features are only available to members who invest in a Majestic Membership upgrade.
First, there is a handy "Incognito" feature. If you enable it, your friends currently using the app won't be able to see your profile.
"Future Connection" is handy if you want to see members who intend to connect with you in the future. The "Last Seen" feature is there to help you not just check the online status of a member but also see when they were last online.
Finally, Feeld enables you to create chat rooms and invite up to two additional profiles to have a chat with. TIt's a great feature for couples and those interested in dating a couple.
Availability of the Feeld App
While we are talking about the unique dating app perks, you should know that Feeld doesn't have a website you can use. You have to download the app from Google Play Store or Apple App Store.
The app comes with all the features from the above. You must also use the mobile app to register your account with Feeld. The app looks the same on Android and iPhone. It features a modern design with really simple icons and distinguishable sound effects.
All things considered, we can conclude that Feeld is a competitive dating app. It has a vast user base, many free features, and a great mobile user experience. The app can help you find a match and get out on an actual date.
However, this app may not be the right choice for you if you are looking for a serious relationship. It covers all the basic needs of those in the hookup culture and couples who would like to experiment with other people.