| | |
| --- | --- |
| Category | Rating |
| Popularity | |
| Quality Matches | |
| Ease of Use | |
| Value of Money | |
| Overall | |
If you're a frequent visitor of free porn aggregator websites, you've probably seen plenty of ads about ''the Facebook of sex". If you are interested in exploring those ads, this review is for you. Although it's pretty different from Facebook, FetLife almost feels like Facebook.
However, the goal is quite different. While Facebook allows you to make friends with other members, FetLife does the same with the addition of the sex element. In other words, you can contact other users to explore your sexual fantasies, speak openly about your deepest desires, the kinks you enjoy, the things you like in bed, etc.
FetLife functions like a social media network but instead of regular people, the site gathers kinksters and people who prefer kinky sex. If you join the site, you'll find sex-related events to attend, pages to follow, user posts with text and photos, entire sex-related feeds, and even friend networks.
While other porn sites like Pornhub offer better options, such as access to a vast video library, there are many reasons why kinksters should consider joining FetLife. This review is going to explore the site and the features it offers.
✓

The Good
Affordable membership
Safe and secure kink community
Plenty of fetishes to choose from
More than 10 million users worldwide
Divers and sexuality inclusive userbase
You can use nearly all the features for free
✗

The Bad
Lots of fake profiles
Outdated user interface
No mobile app for iOS and Android users
Real contact is possible for premium members only
Not a site for people looking for hookups and online dating
FetLife Short Overview
FetLife is a community-based social network for people who are into kinky sex, fetish, and BDSM;
The site's main focus is on catering to people from the world of kink, fetishism, BDSM, and other similar sexual fantasies;
The site gathers more than 10 million users worldwide;
The platform is sexuality and gender-inclusive;
FetLife offers 77 different sexual orientations;
Android users can access FetLife via the app;
Profiles must go through phone number and email verification methods;
The site is organized by places, groups, and events;
You can use most features for free;
Premium access costs $5 per month.
Signing Up
Signing up for FetLife is quite easy. It requires you to complete the following steps:
Choose a nickname;
Choose a gender (13 options available);
Pick your sexual orientation (77 options available).
The selection of sexual orientations is pretty impressive. Whether you prefer roleplay, leather, role play, or something more specific like BDSM, domination, or humiliation, FetLife covers it all. Next, you need to add your location, city, state or province, country, and date of birth.
The site will ask you to verify your profile via a valid email address and choose a password. The moment you're in, you'll receive recommendations to follow kinksters near your location who share similar interests.
We recommend uploading representative photos to your profile. Don't be surprised if you run across many profiles with nude profile photos. That's quite common on FetLife.
Key Features
Numerous page feeds with text, video, and photos;
Search for other like-minded users with the Places Near You feature;
List of fetishes;
Find kinksters nearby;
A range of relationship types, sexuality, and gender options;
Groups and forums for exploring interests, fetishes, and kinks;
Pages for IRL and digital events;
Add/follow friends;
Send, read, and receive messages;
Message requests.
Pricing and Payment
Since FetLife doesn't function as an ordinary dating platform, it doesn't have the regular payment model you can find on most dating sites. Exchanging messages is free of charge, and free members can use almost all features.
Interacting with other members doesn't require any particular upgrades. However, you'll need to upgrade to premium if you want to access premium content such as:
Videos on the Explore page;
The most popular posts ($5 per month if you want to access top posts);
Access to premium members' video libraries.
There are four types of memberships:
| | |
| --- | --- |
| Package | Cost |
| 6 Months | $30 |
| 12 Months | $60 |
| 24 Months | $120 |
| Lifetime | $240 |
FetLife offers multiple payment options:
By mailing in a check or cash
Paysafecard
Bitcoin
E-transfer (for Canadians only)
Credit card (Maestro, MasterCard, V Pay, Visa)
Gift card (valid with a range of popular retailers)
How FetLife Works
Since FetLife doesn't operate as a regular dating site, you're not required to search for matches. Instead, you search for potential same-minded users like you would on Facebook or Instagram. Unfortunately, FetLife's searching mechanism could be much better.
Finding potential friends who share similar interests with you might take a while. Messaging random strangers isn't an option either. You have to become friends with someone to talk to them. The good thing is that you can find other members via the Explore page.
Although accessing this page requires an upgrade, you'll see highlighted NSFW images, photos, posts, videos, etc. There are a few additional options for searching for other members:
Fetishes – the site highlights top users who might share similar fetishes with you;
Groups – each group has a message board thread that you can use to find potential friends;
Places – this feature groups members from different locations in given cities. Each page contains 20 groups. You can explore each profile by viewing the role, gender, age, thumbnail, number of posts, etc.
Starting a Conversation on FetLife
Starting a conversation with someone on FetLife is pretty straightforward. Find a profile, navigate to it and locate the Message Kinkster option in the top right corner of the profile page. Remember that you must first add them as a friend to access the message option.
Since the site values users' privacy and discretion, it will ask if you know the person you're trying to add via a pop-up notification. If you don't want to add someone as a friend, you can follow them instead.
Messaging someone not on your friends list will push your messages in the message request. In other words, they may never see your messages, especially if they are someone popular with lots of friends.
Upgrading your profile and adding them to your friends list dramatically improves your chances of reaching someone you like. If you run into any awkward situation or someone tries to harass you, you can block or report them to customer support.
Safety and Security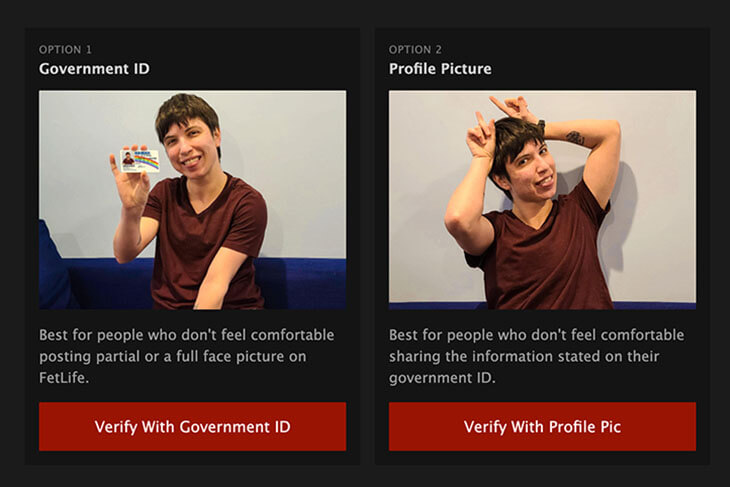 Since FetLife is a niche social media platform that caters to people with unique sexual preferences, its security is quite strong. However, we recommend taking some precautionary measures just in case the site gets breached, as was the case with Ashley Madison in 2015.
If you want to avoid your private information leaking to the public, blur out your face when uploading photos to your profile. The site takes user security and safety quite seriously.
There's responsive customer support for every question you might have, and the site uses the latest HTTPS encryption to backup and protect its database. Unlike other similar sites, FetLife permanently deletes your information when you delete your profile.
Free and Fee-Based Services
Free services include:
Messaging;
Previews of videos and photos;
Join groups.
Fee-based services:
Rewind your Friend Feed up to 25x;
List the most popular videos and photos every day;
Get I Support FetLife on your profile.
If you want to be a premium member, you should know the site doesn't require your payment for the service. Instead, you pay support by making monthly donations, starting at $5 per month.
Mobile App
While there is a FetLife mobile app, it's only available to Android users. iOS users can access FetLife via browsers such as Mozilla Firefox, Google Chrome, and Safari. The site has three versions – mobile, desktop, and app. All three are user-friendly and easy to navigate.
The app version has all the options of the desktop one. However, there's one limitation. The app limits the number of requests and messages you can send. If you reach your limit, the app will automatically put your mobile profile on a time-out. It typically lasts for a few hours.
Special Features
FetLife offers access to a variety of unique features. Let's quickly review them.
– Fetishes
This option allows users to explore more than 60 different fetishes available on FetLife. Each fetish you select leads to related groups and lists of members with the same interest. In addition, you also get access to a list of related fetishes that redirects you to more groups and more same-minded members.
– Public Blogs
The public blog is an excellent way to find other like-minded members and share your videos with them.
– Discussion Group
FetLife users have a variety of groups they can join on their hands. Each group caters to unique desires and interests. Choosing one or several allows you to connect with many people who might be into the same kinks.
– Upcoming Events
Perhaps the most exciting thing about FetLife is the option to meet your friends by attending meets and events nearby. The site will send you alerts about the upcoming FetLife events near your location.
Who is FetLife for?
FetLife is for people looking for casual encounters and erotic adventurers who are into kinky sex, fetishes, etc. If you have a particular fantasy or fetish that you'd like to explore, FetLife is an excellent site for you. It also gathers singles and couples into BDSM, dungeon sex, slavery, and kinky lifestyle in general.
You should find an alternative to FetLife if you want deep commitments, meaningful connections, and serious relationships. Although it could happen, FetLife will hardly help you fall in love.
Full FetLife Review
FetLife offers a lot of excellent options for people who are into kinky sex, fetishes, and everything in between. Although the site feels outdated, the navigation is straightforward and easy to use. The site caters to people who prefer kinky adventures, fetish sex, threesomes, etc.
More importantly, it offers a safe and secure environment where people can hang out, talk to each other, share their dreams, and find partners for sex, relationship, etc. There are no kink-shamers here.
If you're into kinky sex, FetLife allows you to learn all there is about different sexual preferences and orientations. FetLife is dedicated to celebrating sexual desires of all kinds. There are no taboos here, and everyone is welcome to express their deepest fantasies without fear of being stigmatized for being ''different''.
FetLife is so much more than your average dating site. While you can find casual sex, hookups, and relationships here, the site operates more like an online community of same-minded people. Any hooking up or dating on FetLife is purely the result of spontaneity – it's the result of communication between friendly members.
Best FetLife Alternatives for BDSM, Fetish & Kinky Hookups
You won't find swiping options here or any of those Tinder-like features, for that matter. There are no winks and nudges, no sending flirts. The site has no matching algorithm either. Openly hitting on random members won't do you any good here.
You should approach FetLife like you would Facebook or Instagram, or Twitter. Instead of regular people, you'll get a chance to meet users who aren't ashamed of their sexual proclivities and might be into the same kinks as you. The sky's the limit, truly.
Conclusion
We sincerely hope this comprehensive review helps you to put FetLife in the proper perspective. If you have a particular fetish or simply can't get enough of kinky sex, FetLife is the site that allows you to be who you are without worrying about how others will perceive you.
Join the site, make friends with other kinksters, share your fantasies with the online community of like-minded people and simply be yourself. Who knows what tomorrow may bring. After all, everything is possible in the kinky online world.