It doesn't matter if you are single or almost ended a relationship – everyone needs an active sexual life. You may want to spend some time alone, but the basic need of human beings is to have a healthy emotional and sexual life.
The fact is that lately, more and more people want casual relationships. Only a few people are willing to bond with someone and give themselves completely. Although it sounds a little harsh, it's the story of many men and women.
We don't want to go into the background of the story and why people are afraid of bonding and romantic relationships. Everyone has their reasons, and that is a normal thing. Fortunately, these people don't have to worry about finding a person who lives a similar life as them.
However, hooking up with someone can be tough if you don't know how to do it smoothly. Especially if you're not the kind of person that will initiate a casual relationship with someone. Yes, there are dating sites where you can find people interested only in one-night stands or casual and open relationships.
Still, there are some things you should know to successfully find an online hook-up. Take your time and read this guide to prepare yourself.
Find A Good Hookup App Or Site
As we mentioned, there are so many online dating apps and sites where you can find people for a casual relationship with no bonding. However, you should consider finding a reliable one, because not all of them are.
Before you make a profile on some of these unreliable and fake dating sites, check out what other people experience and whether that site is the place for people looking for casual hookups. There are dating sites where people are serious about finding the love of their life.
You don't want to get into situations where you need to explain that you're just looking for a distraction and a bit of sensual fun. Try to limit your choices on specialized apps and sites where people are looking only for casual things.
Find a place where people are interested in the same thing as you and where you can meet people with a true desire for having casual fun. Don't let your desire for touch and physical pleasure cloud your mind. In the end, you don't want to hurt anyone's feelings and find yourself in an awkward situation.
Make A Charming Profile
Well, in the world of dating, whether online or in person, the first thing that anyone will spot is your presentation and the skill of attracting someone without a single word. Don't be fooled into thinking that it doesn't matter to people because it does, especially if you're looking for an online hookup.
You have to make an interesting profile and let people know some basic details about you. Try to read some tips on creating an online dating profile that will attract as many people as possible.
Even if you're not looking for a serious relationship, you should have the possibility to choose with whom you want to have physical contact. You will only achieve this if people are interested in your profile. Of course, it doesn't have to be an incredibly exciting profile, but try to have at least a description that will intrigue potential hookups.
People tend to choose potential dates just based on profiles. Especially when it comes to frivolous sexual relationships. Since you are only looking for fun, you will not have time to prove that you are actually a fascinating and sensual person. Show it by making the best possible profile.
Choose Attractive Photos
Physical appearance is the first thing that can attract someone to you. Since you're not searching for a serious relationship, you may consider posting the best-looking photos of yourself. No one searching for hookups will be interested in how great of a person you are.
Another important thing is not to post only selfies. Selfies rarely have the power to trigger a sexual imagination in other people. Yes, it's essential to show your face to the one you want to hook up with, but they will want to see a bit more sensual and attractive photos just as you probably do as well.
Of course, you won't have to post too provocative images in which you are practically naked. A little imagination tickling is what will quickly help you find what you're looking for. Be sure to post pictures where you look provocative enough and those that don't say you're a good girl/boy looking for the love of its life.
Lastly, never, but absolutely never, put fake pictures of someone other than you. You don't want to get into an awkward and unpleasant situation when you meet your hookup. If you're "fake", they will probably be disappointed and maybe run away thinking you're some kind of creeper.
Be Confident
Confidence is important if you want to have a casual hookup or sex. In fact, for every kind of relationship, confidence plays the most important role. Before you go on such a journey, you have to believe in yourself and have lots of self-confidence.
Besides a beautiful photo and an interesting profile, you'll have to chat with someone before you meet. Of course, chats are just great for people who are not so acrobatic with words at the moment and not so full of confidence.
You can boost your self-confidence by chatting with people from dating apps as often as possible. No obligation, just a simple chat. That way, you will surely get a compliment and a nice word, so it will be easier for you to start appreciating yourself a little more. In a relationship where looks and humor are only needed, such as casual hookup, a pack of self-confidence is a necessity.
Be Clear About Your Intentions
If you want to be involved in some kind of casual relationship with someone, there are some rules you need to understand. Sometimes it can be hard to follow them, but you'll avoid stressful situations if you do. The most important rule for casual hookups is to be honest and clear about your intentions.
You should never act and pretend that you want something more than just to have physical contact and good fun. If you're planning to find a casual partner online, be clear about your needs. First, determine for yourself if you are willing to have casual physical contact with someone.
The next step is to be sure of the decision before deciding to make a profile on some of the dating apps or sites. There's no need to publicly announce it, but there are smooth ways to do it. It's crucial to protect yourself from stress and constantly explaining that you are not there to seek the love of your life.
It can be very helpful if you first explore which dating platforms are more focused on casual dating. That will do half the job.
Make Sure The Other Party Is Interested In The Same Thing As You
Whether it's about offline or online dating, each part should be clear about needs and requirements. You don't want to get too involved emotionally or end up with someone who isn't sure if they need what you need – you'll only get into an awkward situation.
With a casual hookup, it's crucial that you are both on the same side and that you are confident in your intentions. It can hardly always be controlled. There are situations where people simply develop emotions after a while. Emotions are strong feelings that people cannot always handle and avoid.
Of course, if you are honest with each other and express yourself from the start, such situations don't have to be painful and stressful, especially if people are adults and mature. Don't be afraid and uncomfortable to ask if your potential hookup has the same intentions as you.
Things To Avoid If You Want To Have A Casual Hookup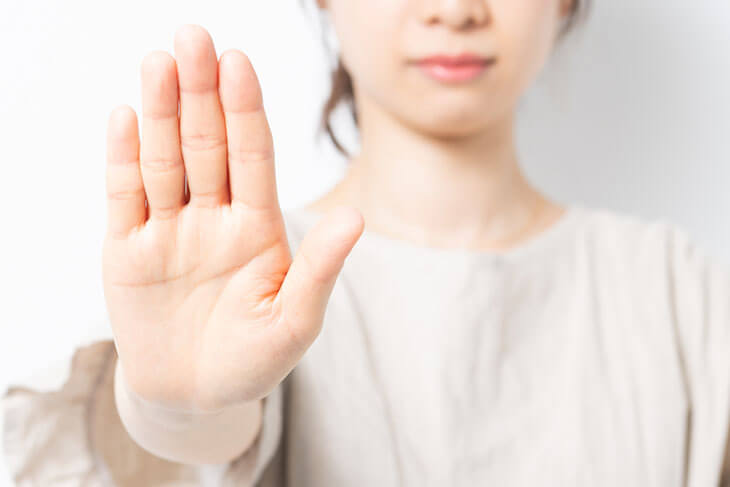 Avoid Deep Conversations
The part that most people find the hardest is chatting or talking with a potential partner. Casual hookup is not supposed to be deep, meaningful, and serious. Of course, we are not proposing that you be tongue-tied or totally uninterested in any kind of conversation, but you should be a little reserved and avoid sharing intimate thoughts.
A casual hookup can very quickly turn into an emotional relationship. If you find yourself talking about your day at work, childhood memories, or any private stuff, chances are high that you're getting involved and attached.
Your conversation with a hookup partner should be light. Try to lead it to small talks about food, sexual preferences, or just joking about irrelevant topics. Remember this rule well because it is one of those that you should practice literally from the beginning, even before you meet in real life.
Avoid Everyday Talks
Even if you desperately need to talk to someone, never choose to talk to the person you want in life just as a sexual partner. It would be ideal to keep communication to a minimum or to hear each other just before you want to meet.
If you want to keep it casual, act like it. Of course, in relationships like this, you should keep the sexual tension on a high level. You should only have such conversations. Occasional flirting and sexting are the only acceptable way to communicate if you don't want to get involved in deep relationships.
Apart from that, you shouldn't talk to each other regularly and even daily. Don't feel obligated to check up on your hookup and ask how their day was. If you start doing that, you should probably reconsider your emotions. Even if it wasn't your intention, you might have become emotionally attached.
Avoid Making Any Plans
What we mean by "making plans" is not "let's meet tomorrow." We mean planning what you will do during the week or month and all that in advance. Not only does it already seem like you are in a serious relationship, but it shows the other side that you are more than excited to organize your life around your encounters.
If you find yourself in such situations, you're probably ready to go further and take the next step. After all, you should not forget your plans and obligations because of someone that is not your emotional partner. Casual hookup should be as the name suggests – casual and arranged when both of you want to have a little fun.
Avoid Meeting Each Other's Friends And Family
Meeting the closest people is what people do only in serious relationships. Even then, the partners consider whether it's a rash decision and whether they are sure they want to take their relationship to the next level. However, when it comes to casual hookups, this may be a serious red flag.
The fact is that nobody does this unless they are starting to develop strong feelings about someone. If your casual partner or even you try to propose something similar, you should know that your casual hookup is about to become more than just sex.
There's no reason to meet someone you don't have feelings for with your closest and dearest people in life. After all, your family or friends won't care about that someone, and you will probably need to look for another hookup option. Make sure to keep things superficial because otherwise, you may end up in a serious relationship.
Conclusion
Casual hookups are not that easy. You need to be prepared for various situations. There are some rules and boundaries that both sides need to respect, as the purpose of this kind of dating is to have no strings attached. Both of you should get what you need from each other and continue with your lives.
If you want to keep it easygoing, just follow this simple guide.